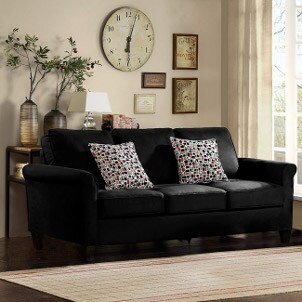 Finding the perfect sofas and loveseats for your home is essential. Your living room furniture is an important part of your home decor, so making the right furniture choice is vital. When choosing new living room furniture like sofas, loveseats and ottomans you'll need to consider what kind of fabric, style and look you want for your home. Taking the time to consider all your options will help you make the best choice possible. Keep reading for more ideas about popular styles of sofas, loveseats and ottomans for your home.
Sofa and Loveseat Styles:

Leather. Leather furniture is by far the most popular type of furniture available. Leather sofas, loveseats and ottomans come in many different styles and colors. A lavish brown leather sofa will give your living room or den a classy and sophisticated look. A sleek and simple leather sofa will fit perfectly in your modern room. Leather doesn't have to be just brown or black. Leather furniture also comes in many other neutral colors, including white, and bright, vivacious colors as well. Add a bright red leather sofa to your living room for a splash of color.

Upholstered. Many people like using upholstered living room furniture because there are so many options available. Upholstered furniture comes in a variety of material, colors and patterns. Your new sofa, loveseat or ottoman can be made of cotton, microfiber, suede, twill and many more types of fabric. Order your new living room sofa in a soft accent color or brighten up your room by purchasing a bright and cheerful loveseat that displays a fun and flirty pattern. The possibilities are endless when it comes to upholstered living room furniture.

Wood. This type of furniture is perfect for both indoor and outdoor use. Its frames are sturdy yet still comfortable. It's easy to find the right kind of wood for your home. Add a sofa or loveseat made from warm cherry wood in order to create an inviting atmosphere. Dark espresso-colored wood will give your room a sophisticated and fashionable look. Make sure you also consider adding cushions to your wooden living room furniture. Colorful cushions and accent pillows will allow you to further personalize your living room.

Buy Sofas and Loveseats
Back to Guides Directory