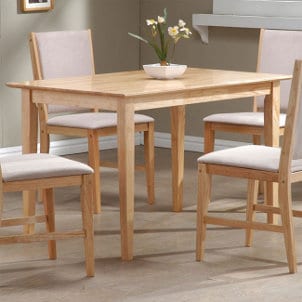 Dining rooms are only as good as the dining tables used to decorate them. It doesn't matter if you're completely remodeling or you merely want to upgrade your dining area; dining tables are one of the most important pieces of furniture for your kitchen or dining room. Your dining room is more than just a place to eat. It's a place where wonderful memories are made, whether with friends or family, during weekly dinners or over the holidays. Investing in a dining table set instantly upgrades the atmosphere and appearance of your dining room. However, you need to know what kind of dining room table to purchase in order to show off your house at its fullest potential. Not all dining tables fit all styles. Keep reading to find out which are the most popular styles of dining tables so you can pick the one that best fits your personality and your home's decor.
Popular Dining Table Styles:

Wooden dining tables. The most popular dining table sets are those made of wood. They come in several trendy styles and are very versatile.

Trendy Wooden Dining Table Styles

Contemporary: These wooden dining tables are ranked as the most popular type of dining furniture. They usually have straight sleek lines and are very minimal in appearance. They're available in all sizes, so they're perfect for a small apartment kitchen or a formal dining room.

Country: These wooden dining tables give your kitchen or dining room a cozy feeling. They're sturdy and will last a long time if properly cared for. They're much less formal in appearance and are mainly used as kitchen tables.

Traditional: These wooden dining tables are used as formal dining furniture. Their appearance ranges from plain and polished to ornate and decorative. Since traditional wooden dining tables are so formal, they're better suited for large dining areas and special occasions.

Glass dining tables. Most glass dining tables have pieces of glass inlaid in the tabletop. Glass dining tables made completely out of glass would not be practical, since they'd be too fragile for everyday use. However, there's always the option to purchase a dining table with a solid glass top instead of an inlay. They work just as well as the ones that are inlaid and can be very charming.

Modern dining tables. A modern dining table is identified by its minimalist appearance and clean lines. These tables are perfect for small apartments and modern dining rooms. A modern dining table can be made of wood, glass or metal. They tend to be lightweight, so they're easy to move when the urge to redecorate hits you.
Tips from Overstock.com:

While you can purchase an individual dining table, many tables come in sets with matching chairs. Remember to check if the dining table you're purchasing comes with chairs or not.

Dining tables can come in many different shapes, such as round, oval, square and rectangular. In addition, your dining room table can fit as few as four people around it or as many as eight or twelve. Some tables have leaves or inserts to extend the table for more guests. Check for these handy features in the dining table you're interested in.

Buy Dining Tables
Back to Guides Directory