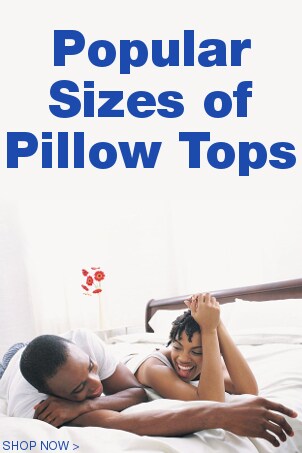 Do you have an uncomfortable mattress that needs replacing? Your health, energy, and happiness rely on the quality of sleep you get, and a stiff or uncomfortable mattress can get in the way of a good night's rest. Pillow top mattresses make increasing comfort easy. If you're shopping for the best mattress, you'll want to learn about the most popular sizes of pillow tops.
Popular Pillow Top Sizes:

Bed sizes: Choose your bed size based on how many people sleep in the bed and the size of those people.

Choose Your Bed Size:

Twin pillow tops provide enough room for one person to sleep, which makes them a great choice for children and single adults. Twin pillow tops are approximately 39 inches by 75 inches in size.

Full-sized pillow tops provide plenty of space for one person, but they can squeeze in two sleepers, as well. These pillow tops are usually about 54 inches by 75 inches in size.

Queen pillow top mattresses measure in at 60 inches by 80 inches. Though they aren't the largest mattresses available, they do offer plenty of room for two average-size people to sleep comfortably.

King pillow-top mattresses offer a wider amount of space for two people to stretch out, as they measure approximately 76 inches by 80 inches.

California king pillow tops measure slightly less in width than king pillow tops, but they are longer, providing more room for tall people to stretch out. California king pillow tops measure in at about 72 inches by 84 inches.

Mattress thickness: Mattresses generally range from about 8-inches thick to more than 18-inches thick. Pillow-top mattresses are often on the thicker side because the pillow adds a few inches, but 10- to 15-inch thick mattresses are most popular. When you shop, make sure to read the product description carefully to see how much of the mattress' overall thickness is the top and how much is the foundation. If more of the thickness is made of the top, the mattress will feel softer, which is more comfortable for side sleepers. If more of the thickness is the foundation, it will probably be a firmer surface, which is preferred by back sleepers. If you buy a thicker mattress, make sure to also buy deep pocket sheets.

Box springs and size: Innerspring mattresses with pillow tops usually require a box spring foundation, and this can add to the overall height of the sleeping surface. Depending on the style of your bed frame, you'll probably want to use a bed skirt on the box spring to conceal it.

Shop Pillow Top Mattresses
Shop Memory Foam Mattresses
Shop All Mattresses
See All Guides
Read More Bedding Guides
Learn More about Mattresses