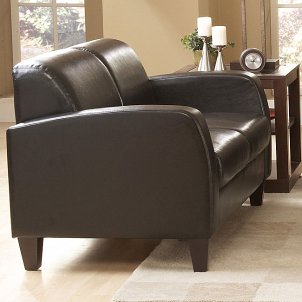 A leather sofa is a classic piece of furniture, and there are styles that can fit in every type of room. The right one will help you express your style as well as provide you with a comfortable place to sit for many years to come. With so many different leather sofas and loveseats to choose from, you'll want to read about them all to find the one that will best fit your home.
Popular Sofa Styles:

Traditional: Most popular in formal living rooms, traditional leather furniture adds a touch of class and elegance. This type of living room furniture often features dark wooden frames and luxurious leather. A traditional leather sofa usually can be found in dark red, brown, or black. Ornate wooden carvings, a tufted back, and rolled arms will also mark the look of a traditional leather sofa.

Modern: The modern sofa is a direct reaction to the traditionally styled sofa. Modern sofas don't feature any ornate decorations or carvings, and are known for their streamlined and sleek looks. Modern leather sofas sport straight lines instead of being curved. They're usually made from light-colored woods, or they may even have metal legs. You can find them in bright and bold colors, like red, orange, or white.

Casual: If you want to create a cozy and inviting living room, then casual leather furniture is definitely for you. You'll have the most comfortable seat in your home when you invest in a plump or oversized sofa. Kick back and relax while you enjoy the friendliness and warmth that your casual sofa offers. A casual leather sectional, sofa, or loveseat can be easily spotted with their flared lines, overstuffed cushions, and neutral colors. This versatile style works with with contemporary, southwestern, or country style rooms.

Retro: A blast from the past and a great conversation piece, a retro leather sofa will transform any room in your house. Typically, a leather sofa will not be considered vintage until it's 15 to 20 years old. However, many manufacturers are now making new leather sofas with a retro look. The details of the styles will depend on the era they are from, but most reflect the popular styles seen in the 1940s through 1970s. Some popular retro colors include avocado green, light blue, tan, and various shades of yellow.
What Do You Want to Do Next?

Shop Leather Sofas & Loveseats
Shop Leather Sectionals
Shop All Leather Living Room Furniture
See All Guides
Read More Furniture Guides
Learn More about Living Room Furniture