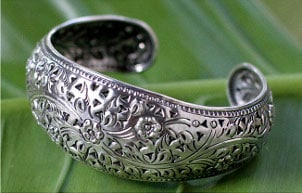 If you want a unique look, invest in handmade silver jewelry; it can dress up or down and is appropriate for a variety of occasions. Sterling silver handmade jewelry is highly popular for several reasons. After all, sterling silver goes with almost everything, and each piece of handmade jewelry is unique. Even better, handmade jewelry often comes from exotic locations, such as Thailand or Bali. Handmade sterling silver jewelry from these countries is distinctive and beautiful. To help you choose the silver jewelry that best fits your style, we have outlined the major characteristics of each country's handmade jewelry. Keep reading to learn why you need to add handmade silver jewelry to your collection.
Handmade Silver Jewelry:

Thailand: Thai jewelry is easily recognized for its style and often inspired by natural elements. Popular pieces of handmade jewelry from Thailand include multi-strand and tassel necklaces, chunky silver cuffs, sleek bracelets and dangling earrings. Thai jewelry often pairs smooth, brightly colored beads with the silver for an easy elegance. Because Thai jewelry tends to use the colors of nature and patterns of flowers, trees and leaves, this silver jewelry is excellent for those who favor simple, tasteful fashion.

Indonesia: Unique jewelry from Indonesia will show off your love of the exotic. Indonesian sterling silver jewelry includes dome rings, fanciful dangling earrings, large pendants and slim bracelets. You can recognize handmade jewelry from Indonesia by the gemstones used; topaz, moonstone, pearl, shell and amethyst are popular gems in Indonesian silver jewelry. Another way to identify Indonesian handmade silver jewelry is by the motif it bears, as carving faces and moons into pearl, shell or moonstone is a popular jewelry-making technique.

India: Popular pieces of Indian jewelry are thin pendant necklaces, dangling earrings, beaded multi-strand necklaces and beaded bracelets. Handmade silver jewelry from India often incorporates exotic gems -- such as chalcedony, lapis lazuli, amethyst and onyx -- as well as multiple gems in the same piece of jewelry. These characteristics make silver Indian jewelry easily identifiable and popular to wear to work or a party.

Mexico: Choose handmade silver jewelry from Mexico for a bolder, Southwestern kind of look. Popular Mexican jewelry includes cuff bangles, wrap rings, thick beaded necklaces and chain-link bracelets and necklaces. Cutout patterns make Mexican jewelry distinct from other kinds of handmade silver jewelry, especially on the large cuff bracelets. Handmade Mexican jewelry uses popular gems like pearls, abalone and turquoise, but it is often constructed mainly of styled or stamped sterling silver for a unique but sophisticated look.

Bali: Sterling silver from Bali is known for its whimsical shapes. Bali jewelry often resembles cats, elephants, flowers or stars with lots of circles and ovals to round things out. Most Bali jewelry comes in the form of either pendants or dangle earrings and uses gems like topaz and pearls extensively. Give Bali jewelry to the teenager who just got her ears pierced or to anyone who wants jewelry with a good mix of elegance and fun.

Tibet: Handmade silver jewelry from Tibet often has a very distinctive feature: the use of Tibetan script. This artistic carving makes Tibetan jewelry intriguing and gives your outfit an Eastern look. Tibetan jewelry is often thick and chunky with heavy bangles and multi-strand necklaces, and it often incorporates bold gems like coral, turquoise and malachite. Tibetan jewelry is the perfect exotic accessory if you like to wear one big, bold piece at a time.

Buy Sterling Silver Handmade Jewelry
Back to Guides Directory