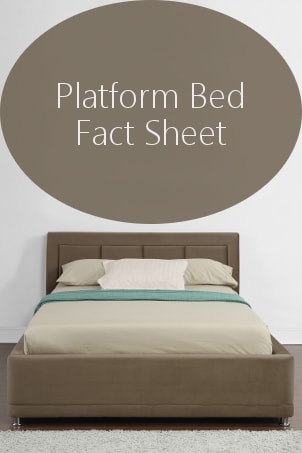 SHOP PLATFORM BEDS NOW >>
When you're shopping for a new bed, you'll see many styles of platform beds for sale. If you're used to sleeping on a bed with a box spring, then you may want to learn more about platform beds. These facts should help you understand them better, so you can feel confident about your purchase.
Facts about Platform Beds:

Platform beds come in a wide variety of styles. The name may make you think of minimalist bed frames with little adornment. While there are some very streamlined, contemporary platform bed frames, they actually come in several styles, from traditional to modern. Some platform beds come upholstered and even tufted. Some have tall head boards, posters, or canopies.

You don't need a box spring. All platform beds have a flat platform or at least 15 slats to support your mattress. The platform eliminates the need for a box spring. You simply place your mattress directly on the platform or slats.

Platform beds offer a firm sleeping surface. Most platform beds are made of hardwood, like mahogany or oak; this makes them very sturdy, so you won't have midnight creaks or wobbles, but their material can also make them very heavy to move.

Platform beds are perfect for memory foam mattresses. You can place any kind of mattress on your platform bed frame, but the platform surface works particularly well with memory foam. Memory foam mattresses are not usually sold as a set with a box spring, so with one of these bed frames, you won't have to make a separate purchase.

There are platform beds for everyone in your family. They come in every size, from twin to California King, so everyone in your home can sleep on a platform bed. Because platform beds are often closer to the ground than beds with box springs, they're perfect for small children who are just graduating from cribs.

It's easy to coordinate a new platform bed with your current bedroom furniture. Similar colors and finishes can coordinate a new bed frame with existing dressers and nightstands. A leather-upholstered platform bed with elegant bedding updates an entire bedroom. Complement a contemporary platform bed with a few other contemporary touches, like a chevron area rug, a crystal chandelier, and bold art.

Shop Platform Beds
Shop Storage Beds
Shop All Beds
See All Guides
Read More Furniture Guides
Learn More about Bedroom Furniture
Published August 6, 2010
Updated April 2, 2015