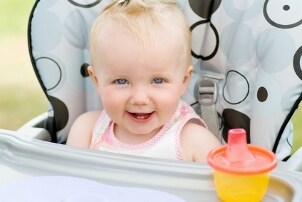 Mealtime with your baby is more than just baby food and bibs. A quality high chair can make the job easier and keep your baby safe when it's time to eat. With so many styles of high chairs available, it can be hard to find the right one for you and your baby. The following tips can help you compare wooden high chairs and plastic high chairs and help you decide which style works best for you.
Comparing High Chairs:

Style: Many people love the look of wooden high chairs. They can match the color of the wood to their kitchen cabinets and decor, and the classic look of wooden high chairs complements many styles and tastes. Plastic high chairs usually have fun patterns and prints, however, making them just as attractive and fun as wooden high chairs. When you're shopping for a baby high chair, consider your home decor and what look you prefer to find the perfect high chair for you.

Cleaning: High chairs get messy fast, so making sure you have a high chair that's easy to clean is important. Typically, both plastic and wooden high chairs have a plastic food tray that you can easily detach for cleaning. The seat and other parts of wooden high chairs usually need to be cleaned with special wood cleaners to keep the finish intact. Plastic high chairs may have fabric seat cushions that need to be cleaned with soap and water.

Durability: Wooden high chairs are typically more sturdy and durable than plastic high chairs, making them a great choice if you plan on passing your high chair down from child to child. Plastic high chairs, however, typically fold up easier than wooden high chairs, making them easier to move out of the way when they're not in use and keeping them safer from bumps and dings.

Storage: While plastic high chairs fold up easier than wooden high chairs, many wooden high chairs are designed to be more compact in general than plastic high chairs. When you're ready to purchase a high chair, you'll want to think about your storage space. Do you need something that will fold up and fit in a small space or do you have plenty of room?

Portability: If you're planning on taking a high chair for dinners at relatives' homes or even just want to move it around the house, you'll want to make sure the high chair you choose is easy to pack up and take with you. Plastic high chairs are, in general, more travel-friendly than wooden high chairs, but they usually also have more parts to keep track of. Many parents choose to have a wooden high chair for use in the home and purchase lightweight plastic high chairs and booster seats to take on trips, to grandma's house or even just from the kitchen to the dining room.

Buy High Chairs
Back to Guides Directory