Pillows Buying Guide
by Staff Writer
People have hundreds of different sleep preferences, and there are hundreds of different styles of pillows to match those preferences. Choosing a bed pillow is largely a matter of your sleep preferences, so learning a little bit about the available options can help you find a pillow that's just right for how you sleep.
Buying a Pillow: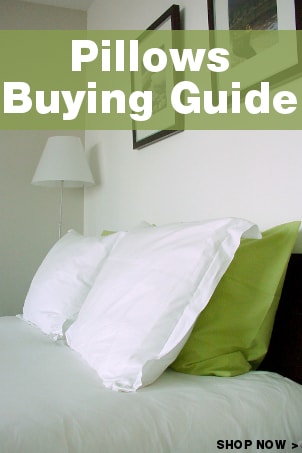 Shop Down Pillows ▸
Filled pillows:

Traditional bedroom pillows are filled with a number of different materials, from duck feathers to buckwheat hulls; however, the most common types of fill are down and synthetic fills (often polyester).
Most Popular Filled Pillows
Down pillows are most often filled with a combination of goose down and feathers; while 100 percent down is ideal for bedding, it often is too light for a pillow, which is why many companies add feathers to down pillows.
Polyester-filled pillows are the most common kind of bedroom pillow, in large part because poly-filled pillows are usually inexpensive and still quite comfortable. Bed pillows with synthetic fill feel springier than down pillows, but they don't conform to the shape of your head quite like down pillows do. While synthetic fills are inexpensive, they do not last as long as down pillows.
Foam pillows:

Memory foam pillows have become more popular in recent years as prices have dropped on memory foam products.
Popular Foam Pillows
Traditional memory foam pillows conform to the shape of your neck and head providing a firm, supportive surface.
Gel memory foam pillows provide the same support of traditional memory foam, but the infusion of gel beads in the foam allows for better air flow, making this the choice of people who need help staying cool while they sleep.
Latex foam pillows are popular because they are hypoallergenic, they offer great neck support, and some of them are the only 100 percent organic pillows on the market. If you want an eco-friendly pillow, choose a certified organic latex pillow.
Contour pillows are foam pillows that are molded to mimic the curve of the neck, facilitating proper breathing and proper neck alignment during sleep, which is why many people with sleep apnea prefer them.
Pillow sizes:

Choose your pillow sizes based on the size of your bed, the way you like your bed to look when it's made, and any needs you have while you sleep.
Popular Pillow Sizes
Standard-size pillows are 20-inches wide and 26-inches long.
Queen-size pillows are 20-inches wide and 30-inches long.
King-size pillows are 20-inches wide and 36-inches long.
Euro pillows are square, 26 inches by 26 inches, and are usually used as support pillows or accent pillows.
Body pillows are at least 50 inches long; they are usually for snuggling with and are very popular as maternity pillows.
Throw pillows add comfort, color, and style to a sofa or bed, and they're a great way to change the look of your bedroom decor without spending very much.
Travel pillows are small pillows that go behind or wrap around your neck, letting you sleep sitting while sitting up, which can make hours on a plane much more comfortable.
Lumbar pillows can help make eight hours in the office a much more comfortable experience. Lumbar pillows are usually cylinders designed to support the small of your back.
Pillow prices:

Pillows vary widely in price, from small inexpensive synthetic-fill pillows to pricey king-size 100 percent down pillows. Some of the more expensive pillows offer cloud-like loft and high-quality materials, which many people love. However, many people are satisfied with less expensive pillows and prefer to save money by buying them. Remember that while different varieties each have things to offer, there is not a best pillow, so you should base your choice on preference.