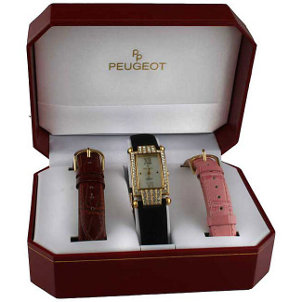 Fashion watches have become essential accessories, and Peugeot watches exemplify this trend more than almost any other brand. As a well-known brand sold in top department stores, Peugeot makes high-quality timepieces that are stylishly modern and moderately priced, making these fashion watches great accessories for wearing every day. Women's Peugeot watches and men's Peugeot watches will add a lot of style to your wardrobe without breaking your budget. With men's watches and women's watches from Peugeot you will always have trendy timepiece to wear with anything in your closet. If you're wondering how to buy the perfect Peugeot watch of your own, this Peugeot watch buying guide offers valuable information about this exciting watch brand.
Buying Peugeot Watches:

Peugeot watch history: The Peugeot watch brand dates to 1957, when the company started producing luxury gold watches. In 1979, they decided to expand their collection and entered the marketplace of fashion watches. Since then, Peugeot men's watches and Peugeot ladies watches have displayed trendy, sophisticated designs that are suitable for any wardrobe and any occasion.

Watch design: Peugeot features a variety of women's watches and men's watches, making it possible to build an expansive watch collection from this brand. Fashion changes with time and place. The watch you wear for work is probably not the one you strap on for a night out for dinner or for a weekend of running errands. For a dressy piece that adds a serious, tailored accent to your wardrobe, choose one of the many Peugeot ladies timepieces or Peugeot men's watches in silver-tone, gold-tone or two-tone finishes. Leather straps in bright or pastel colors give any casual outfit a style boost. Peugeot creates many timepieces that are as beautiful as jewelry. A woman who prefers an elegant, subtle approach to fashion must have a Peugeot bangle watch with a slender bangle cuff and polished finish. Those who want more sparkle can choose a dazzling crystal-studded watch. Peugeot's crystal watches feature genuine Swarovski crystals.

Ceramic watches: These wristwatches have genuine ceramic cases and bracelets. Ceramic is a relatively new material in watch construction, but it is quickly becoming a favorite. A ceramic case or bracelet is durable and resists scratches better than many metals or plastics. It is the look of ceramic watches that has captured most of the attention; as elegant fashion watches, they are sleek, glossy and, often, colorful. Peugeot's ceramic watches also feature a high-quality Swiss movement.

Tungsten watches: You'll find several wristwatches with tungsten cases and bracelets among Peugeot men's watches and women's watches. Tungsten is extremely durable and is harder than even steel or titanium. Tungsten has a deep grey color and a reflective shine that won't lose its luster over time. It also resists corrosion, tarnish and discoloration. Tungsten watches from Peugeot also feature Swiss movement and scratch-resistant sapphire crystals.

Adjustable buckles: Many of Peugeot's link-bracelet watches for women have an adjustable buckle with a removable link. The buckle consists of two jewelry clasps, hinged hooks that fold over a bar to secure a watch band, one of which can be removed by opening both of the clasps at the same time. This design is often found on bracelets and allows you to have a custom-fit timepiece.

Peugeot watch care: Your Peugeot watch will arrive in an attractive box that is ideal for storing the timepiece. If you own several watches, invest in a watch box if you don't already have one; a decorative watch box with individual slots keeps your watch collection safe from dust and items which might scratch the surfaces during storage. Occasionally, clean metal cases and bracelets with a slightly damp lint-free cloth and dry with a soft lint-free cloth.

Understanding water resistance: Your Peugeot watch is water-resistant if the term "water resistant" is stamped on the back of the watch case; otherwise, the watch is not considered to be water-resistant and must be protected from water and steam. If the watch is water-resistant, small splashes of water that result from being out in the rain or near a sink won't harm the internal workings. However, it is still better to avoid prolonged exposure to water, steam or mist. Do not wear your Peugeot watch while swimming, showering, washing dishes, relaxing in a hot tub or during other activities that expose the timepiece to water unless the watch has a high water resistance. A water resistance of 200 meters is considered high enough for dive watches, and a water resistance of 100 meters is high enough for a fair amount of water exposure.

Buy Women's Peugeot Watches
Back to Guides Directory