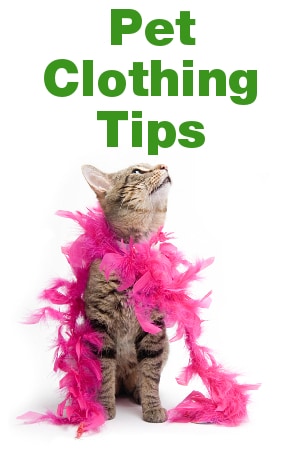 SHOP PET CLOTHING NOW >>
The world of fashion is branching out to our furry friends. Whether your pet is sporting a rhinestone collar, a pair of booties, or a dapper sweater, it's fun to see your animal all dressed up. There are some important aspects to consider if you're thinking of buying pet apparel for your cat or dog. These tips will help you choose the best clothes for your pooch or pussy cat.
Tips for Dressing Up Pets:

Size: Just like your own clothes, the sizing of pet clothes matters. But for furry critters, the right size isn't just about how the clothes look; it's also a safety measure. If your pet's clothes are too small, they can constrict breathing and cause other medical problems. If the clothes are too big, your pet can trip on them or they can become entangled on bushes, fences, and other nearby items and potentially strangle your animal. In addition, make sure that your pet's eyes aren't covered and vision isn't obstructed. This guide on how to measure your dog for clothes will help you determine the best size for your animal.

Fit: Fit is another component of sizing, but even the right size pet clothes may not have the right fit for your furry friend. When you have the clothes on your pet, make sure no one area is too tight. You should be able to fit two fingers between the cloth and your pet's skin everywhere on the outfit. Make sure that nothing is causing friction at any point, especially sensitive spots like bellies, ears, and necks. If the clothes rub, they will cause damage and soreness to your pet's skin.

Closures: All closures on pet clothes and pet accessories should be safety buckles that either stretch or break away when under stress. This will prevent pets from strangling or incurring other injury in the case that the clothes get caught on anything while your pet is wearing them. In addition, make sure that there are no button closures or anything else he can chew off and choke or suffocate on.

Nighttime safety: If you're walking your dog in the evening or at night, any clothes he's wearing should be brightly colored and have reflective tape to keep him safe on the road. In addition, make sure that the apparel he's wearing accommodates a collar or harness and leash. Animals can easily get away in the darkness if not on a leash. A leash also protects your pet against getting in scuffles with other animals, walking through brush and plants that can harm him, or eating anything potentially dangerous off the ground.

Warmth: Most dogs and cats have adequate fur to keep them warm all winter long, but some breeds, such as small dogs, greyhounds, and sphynx cats, may need clothes to keep them warm in cold weather. For these breeds, and any other animals that need help staying warm, look for pet clothing in fabrics that help conserve heat, like wool, shearling, fleece, and French terry. Some animals may show sensitivity to synthetic fabrics. If that is the case, pet sweaters and coats in natural fibers -- like wool, leather, and cotton -- may be best.

Training: Your pet may not like his clothes right away. Wearing clothing may feel unnatural or uncomfortable at first. If you would like your pet to wear clothes, whether for fashion or warmth, start by putting them on him for short periods at a time and rewarding him with treats. Gradually increase the amount of time until your pet is comfortable wearing clothing for extended periods. Be careful, however, not to leave the clothes on too long -- no longer than a few hours. This can cause problems like chaffing and overheating.

Shop Pet Accessories
Shop Pet Costumes
Shop All Pet Apparel
See All Guides
Read More Pet Guides
Learn More about Pet Fashion