Percale Sheets Fact Sheet
by Glyn Sheridan
Published February 19, 2010 | Updated June 17, 2015
Percale, a type of broadcloth, is known for the tight manner in which it is woven, instead of its fiber content. Percale sheets are elegant, smooth, and soft. If you're looking for new bedding, learn more about percale sheets to see if they're right for your bed.
About Percale Sheets: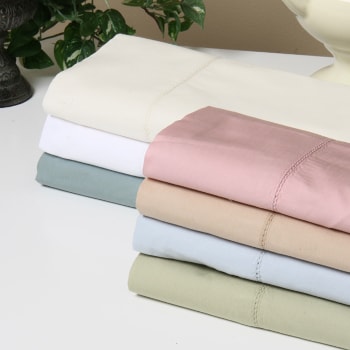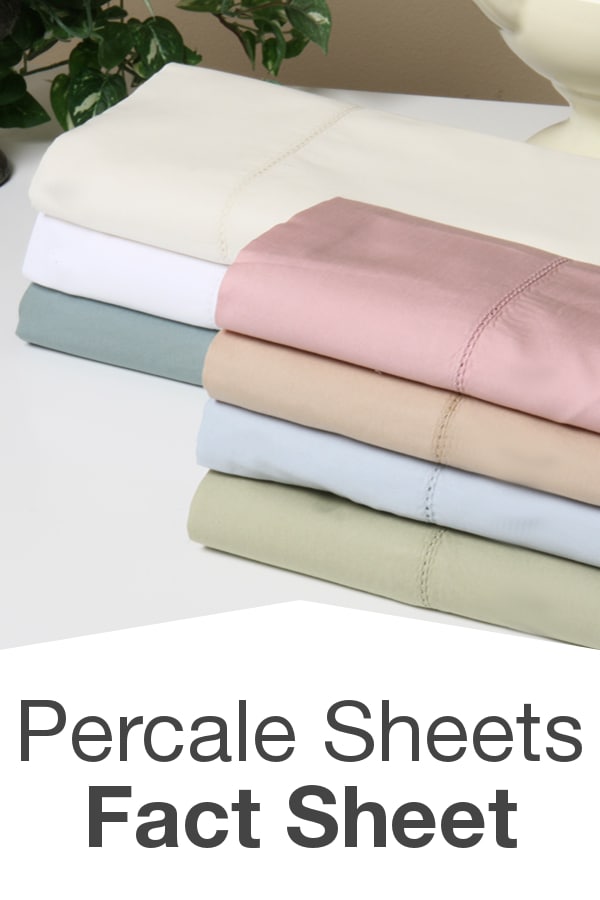 Shop Percale Sheets ▸
History

Percale comes from the Persian word "pargala," meaning "a rag." Woven on looms, early types of percale were exported to other lands from India. This method of production caught the attention of French textile manufacturers who realized the benefits of the weave pattern and began to market their own fabrics made from a variety of fibers. Percale is readily available today in quality bed sheets.

Construction

A series of vertical and horizontal threads, woven one at a time, differentiates percale from other fabric weaves. Fabric with this weave feels the same on both sides, and the tighter the weave, the smoother the sheets will feel. To qualify as authentic percale in the United States, percale sheets must have a minimum of 180 threads running in one direction per square inch. The thread count may read as 180 TC on the bed-sheet package. The higher the thread count, the better the sheet quality.

Fiber

Although cotton is the favored fiber for percale sheets because of how it breathes, its dense threads may also cause the fabric to wrinkle more if the thread count is more than 400. To reduce wrinkles, the makers of percale sheets may add a percentage of a wrinkle-resistant fiber, such as polyester or silk, to the weave.

Features

The percale weave is durable and smooth to the touch. Percale sheets may feel softer after each washing, and they may resist pilling, even after years of use, especially in thread counts over 400. One-hundred percent cotton percale sheets may feel cool and crisp against the skin, making them welcome during warm weather. Lighter colors may feel softer as well, as dye can add to sheets' stiffness.

Cost

Percale bed sheets come in a range of prices that depend upon the fiber used and the density of the thread count. Egyptian cotton and Pima cotton feature a long thread stand, which enables a higher thread count due to their stronger fiber. These sheets are generally more expensive than regular cotton or a poly-cotton blend, and they provide a smooth, silky feel, often manufactured with a thread count over 600. Poly-cotton percale blends are readily available between 200 TC and 400 TC.

Care

Launder percale sheets in warm water with a mild soap or according to the manufacturer's instructions. Avoid using bleach, which may weaken the fibers and reduce the sheets' longevity. Separate them from other clothing items that may damage them during the washing and drying cycles, including anything with zippers or hooks. To reduce wrinkling, tumble dry, remove, and fold the sheets promptly when dry. You may iron percale sheets, if desired. Percale sheets may shrink up to 2 percent of their size after you launder them the first time.