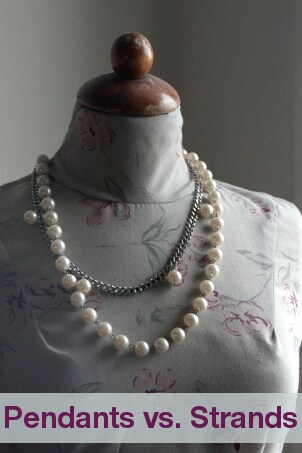 Necklaces add interest to your outfits and draw attention to your face. There are many different types of necklaces and a myriad of styles in every category, including pendants and strands. This might leave you wondering which to add to your collection. Or maybe you have a jewelry wardrobe full of necklaces and are looking for tips to help you put them with the right outfits. Once you understand the differences, you'll be able to choose the right one to wear with every outfit.
Pendant and Strand Necklaces:

Pendants and strands have different compositions. A pendant is a single ornament that hangs suspended from a chain or cord; lockets, single diamonds, and cross necklaces are common pendant designs. Strands are complete pieces that incorporate beading, jewels, pearls, and other embellishments in a single, continuous string. Strands can be single threads of jewels or multiple strings of beads, and they come in all lengths.

Invest in pieces you'll wear often; save on trendy necklaces. Depending on the materials the necklace is made of as well as the overall size, prices can vary widely for both pendants and strands. A pearl strand necklace may cost a bit more, but it's a classic piece that will never go out of style. On the other hand, a hot pink beaded necklace may not always be in style, so you wouldn't want to spend as much on it. Likewise, a diamond pendant may have a larger price tag, but you'll wear it forever. A trendy symbol pendant, however, would be a piece that you would want to find a deal on.

Balance the type of collar on your outfit with the length of your necklace. The basic rule is to fill in the empty space on your chest without letting your necklace go into your cleavage or onto your top. Pendants are often the right size and shape for a blouse with the top buttons unbuttoned or a V-neck top. However, if you're wearing a turtleneck or other high-neck top, a long strand necklace is the perfect choice.

Balance the size of your necklace with the busyness of your outfit. If your outfit is simple, wear a bold pendant necklace or a multistrand necklace to give it more visual interest. If your outfit has a lot of color and pattern, opt for a subtle, small pendant or a short single strand.

Layer pendants and strands to personalize your look. Make a style statement by layering several necklaces. While there are several ways to do it, here's a simple formula: Start with a small pendant on a shorter chain, add a pendant on a longer chain, and then add a long strand necklace. Make sure you wear simple post earrings with this look.
What Do You Want to Do Next?

Shop Pendant Necklaces
Shop Strand Necklaces
Shop All Necklaces
See All Guides
Read More Jewelry Guides
Learn More about Necklaces