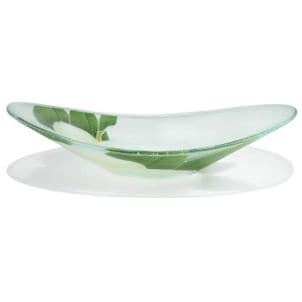 Since 1987, Peggy Karr Glass has designed elegant glass art you can display and use to serve food in your home. Each piece in the Peggy Karr collection is handmade in the United States using recycled glass, computer-generated stencils and unique enamels made of glass and ceramic pigments. These fused glass bowls and plates are also fired in energy-efficient kilns, making them environmentally friendly. Give friends and family unique glass gifts and serveware and follow this guide to buy quality Peggy Karr glassware today.
Buying Peggy Karr Glass:

Choose a theme you like. When you're looking for the perfect Peggy Karr pieces for your home, you'll be able to choose between florals, geometric patterns, seasonal prints and more. Focus on a particular color you'd like to incorporate or pick a certain flower you could easily display. You'll be able to find the handmade glass plates and trays without being overwhelmed by all the glassware available.

Decide whether you want function or fashion. All Peggy Karr glassware is completely food-safe and microwave-safe, which means you can use these stylish glass plates as dinnerware. If you're more interested in painted glass you can display in your hutch or even on a side table in your home, you'll want to look for acrylic stands to hold your glass art safely.

Keep friends' tastes in mind. If you're buying Peggy Karr glass to give as a gift, you'll want to think about colors, shapes and sizes that will appeal to your friends and family. Your mother may love a painted glass platter that features poppies, while your sister may want something more contemporary, such as a handmade glass bowl decorated with geometric shapes and bold colors. You'll also want to keep space in mind; a friend who has a tiny apartment will probably welcome a set of recycled glass coasters instead of a large decorated glass platter for her limited space.

Look for multitasking glass pieces. For fused glass pieces you can use or display all year long, look for colors and patterns that complement your home decor. Buy a decorated glass bowl you can display on its own and then fill with lemons, pinecones or holiday lights during various seasons. A painted glass platter or square plate that features neutral colors and patterns can work with a contemporary or vintage design scheme, too.

Buy Peggy Karr
Back to Guides Directory