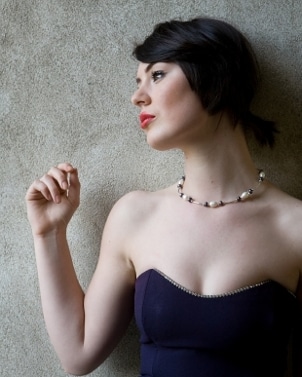 Pearl necklaces are timeless, but that doesn't mean they can't be trendy. Pearls exist in so many different colors, and they can be made into a variety of necklace styles. Each pearl necklace trend brings the luster of this oceanic gem to your look. Whether you prefer white pearls in a long strand or pearl necklaces with plenty of color, our favorite pearl jewelry trends will appeal to your fashionable side. Consider these necklaces when shopping for pearl jewelry that will help you seduce your crush or give you a demure look for a family wedding.
Trendy Pearl Necklaces:

Long: Long pearl necklaces take a page out of the vintage book of style. These pieces of jewelry are fun and flirty and have been gaining popularity in recent years. Many long pearl necklaces can be worn doubled or tripled around your neck for that trendy almost-overdone look. Keep other pieces of jewelry to a minimum when wearing long pearl necklaces.

Colorful: Pearls are not just found in white and cream shades. Pink, black, grey, blue, champagne and chocolate pearls add a splash of color your outfit. Long and short pearl necklaces may feature colorful pearls. Many pearls are found naturally in these hues, while others are dyed. Natural pearls are a great investment, while dyed pearls are more budget-friendly.

Mother-of-pearl: Mother-of-pearl offers the gorgeous iridescence of pearls without the high price tag. Mother-of-pearl necklaces are made of polished and carved pieces of inner mollusk shell. These necklaces may be made of small or large pieces. Mother-of-pearl pendants are also available.

Intricate: Forget your mother's simple strand of pearls. Today's pearl necklaces often feature intricate designs, including floral patterns and lovely little clusters. These pearl necklaces are dramatic enough to be worn on any occasion. Try an intricate pearl necklace with jeans or a nice dress.

Mixture: Pearls have long stood alone in necklace strands, but today you can find necklaces with both pearls and other gemstones. Black onyx beads provide a fabulous contrast to white pearls. Amethyst stones give your pearl necklace a modern but feminine vibe. Grey pearls are complemented by blue lapis gems. Look for pearl necklaces that personify your individual style.

Buy Pearl Necklaces
Back to Guides Directory