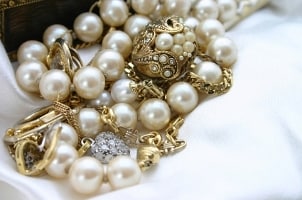 Since prehistoric times, few things have compared to the elegant beauty of a smooth, sleek pearl. Pearls are versatile; pearl jewelry is equally appropriate with an evening dress at a formal ball or with jeans and a blouse at lunch with friends. Pearls are natural articles created by mollusks, including oysters, clams and snails. A variety of pearls are used in jewelry pieces, from cultured pearls to natural pearls. Pearls come from all around the world, and pearl jewelry can feature gems of many colors and sizes. To choose from pearl bracelets, pearl necklaces, pearl rings and pearl earrings expertly, consider this pearl jewelry buying guide before shopping.
Buying Pearl Jewelry:

Natural pearls: Natural pearls are not widely available because they have to be hunted. A natural pearl is a true treasure; natural pearl jewelry is often quite expensive, but some affordable vintage jewelry or estate jewelry pieces showcase natural pearls.

Cultured pearls: Most modern pearl jewelry uses cultured pearls; they are real pearls, just made with a little help from humans. The process begins when a nucleus is implanted in an oyster, instead of waiting and hoping for it to happen naturally. Cultured pearls are more affordable than natural pearls because finding them isn't luck.

Quality: Pearls vary in quality, like any other gem, and are graded on six factors: size, color, shape, luster, surface quality and nacre quality. Matching is also considered when you are buying a pearl necklace. Big, round pearls are considered the best, though color is more of a personal preference.

Types of pearls: You have so many options when choosing pearls. Different pearls are cultured in different parts of the world using a variety of techniques. The type of mollusk and the water it lives in also plays a part in the pearl type. Akoya, Cortez, Mabe, South Sea and Tahitian pearls are some of the most popular varieties. Akoya pearls are typically white or cream, but they can also be grey or black. Cortez pearls are available in a range of colors, including an iridescent black pearl. Mabe pearls have very high luster and look lovely in rings. South Sea pearls are among the largest cultured pearls and can be white, cream or gold. Tahitian pearls are naturally grey, silver or black. The most sought-after Tahitian pearl is black with peacock green overtones.

Pearl necklaces: Everybody's heard it, and it remains a true fashion icon; no woman can go wrong wearing a little black dress and a pearl necklace. You can always wear your pearl necklace with skinny jeans, a suit or a casual sundress, too. You have many options when shopping for pearl necklaces. The bib style is popular. Bib necklaces showcase several pearl necklaces of different lengths on a single clasp to create a fan effect over the upper chest. Collar necklaces and chokers are worn close to the neck, framing your face. For something trendy and luxurious, choose an opera or rope pearl necklace. These long pearl necklaces can be doubled or left long.

Pearl earrings: Pearl earrings are classic and elegant. Pearl studs are simple enough to wear with your favorite diamond bracelet and a long chain necklace, while pearl chandelier earrings look great all on their own. Pearl earrings look lovely with diamond embellishments.

Pearl bracelets: Pearl bracelets can be simple or extravagant. A single-strand pearl bracelet is an easy accessory to throw on with casual and workday ensembles. A pearl bracelet with several rows of pearls and other gemstones is the perfect accessory for a wedding or formal event. Some pearl bracelets are strung on elastic, making them easy to put on. Fancier pearl bracelets often have hinges or clasps.

Pearl rings: Many pearls are not perfectly round. These pearls are often set into beautiful rings that showcase their unique shapes. Pearl rings make nice cocktail rings, and pearls also look stunning in engagement rings.

Buy Pearl Jewelry
Back to Guides Directory