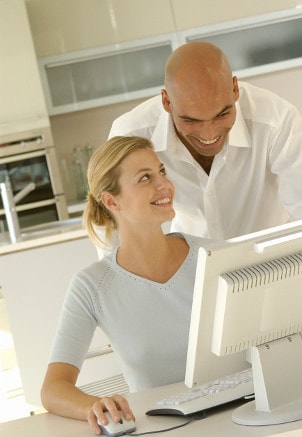 Electronics and computers are constantly changing form and function. They show up in your phone, your car and are quickly becoming a fixture in every room of the house. Here are a few ideas for incorporating PCs into every room to help you create a truly modern home.
Computers for Every Room:

Desktop PC: The original desktop PC isn't likely to disappear any time soon. Your desktop PC is a workhorse of computing, storing lots of programs, photos, music and other files. Even if you have laptops and hand-held devices, your desktop PC can be a sort of base computer for your other electronics.

Home theater PC: Whether you're streaming videos online or using it as a DVR, a home theater PC wraps the functionality of other home theater devices into one machine, connected to your HDTV. You can even construct your own. Start with a regular PC; then add one or more large hard drives, a Blu-ray disc drive, a video card, lots of RAM and home theater PC software.

Home servers: With multiple computers in the house, like desktop and laptop PCs, a central point for storing and sharing data can be helpful. A home server connected to your home wireless network can allow any PC in the house to upload and download data from a single, high-capacity storage system.

Internet portals: Not every PC in your home needs to have full functionality. Sometimes, all you need is a way to connect to the Internet, check e-mail or watch online videos. A barebones computer with just enough power for Web browsing can act as a quick and easy Internet portal.

Video game consoles: The latest generations of game consoles are much more versatile than previous versions. Not only do they play the latest games in high-definition detail, but they can stream movies and music online, browse the Web and perform many other functions that used to be the domain of desktops and laptops only.

Wireless devices: Your wireless laptop PC and Wi-Fi capable smartphone are part of the home PC family, too. The key to using these, together with your other home computers, is to set up a home wireless network that all of your devices can access.

Buy Computers
Back to Guides Directory