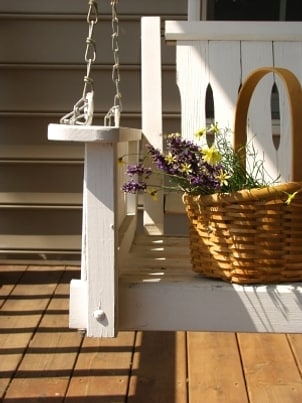 Relax and enjoy the outdoors anytime in a comfortable, durable patio swing you can display in your back yard. Whether you'd like a hanging swing you can suspend from your back porch or wooden garden swings nestled among trees and flowers, this outdoor patio furniture can provide extra seating and a great view of your back yard year-round. Read on for facts that can help you buy the perfect patio swing and other hammocks and swings for your home.
Facts about Patio Swings:

Patio swings often include canopies. During the summer months when you frequently have barbecues or outdoor parties, an outdoor patio swing with a thick canvas canopy and matching cushions will keep guests cool; this type of patio swing set is also perfect for a drizzle or light rainstorm. For a traditional look, buy an outdoor patio swing with striped blue-and-white cushions and a matching blue canopy. Floral and geometric prints will update your furniture and give you a contemporary feel.

Patio swings are made of wood, aluminum, plastic, wrought iron and steel. Consider your climate and how frequently you'll be using your patio furniture when deciding on the right materials for a swing. A wrought-iron patio swing set is durable and resists rust, which makes it an excellent choice for a chilly, wet climate. If you want something more laid-back than wrought iron, consider buying wooden garden swings. With swings made of fir, pine and cedar woods, you're sure to find a style that works with your patio and garden. You can even apply a waterproofing solution to your swings and other patio furniture to protect it from water damage. Plastic outdoor patio furniture can be durable during the summer, but these outdoor swings should be stored during the winter so they are not damaged by snow or rain.

Patio swings can hang or be placed securely on your patio. A hanging swing is a great option if you have a small back yard or simply want a porch swing that's easy to access. If you'd like more versatile swings you can move around when you invite friends over or have a barbecue, purchase garden swings made of aluminum, plastic or wood. You can often find garden swings that glide rather than swing back and forth if you're worried about damaging trees and other furniture or having children fall. These outdoor swings can be placed around your yard to provide extra seating during get-togethers.

Patio swings can easily be updated. Whether you've decided on a porch swing or outdoor swings that complement the trees and flowers in your garden, you're not stuck with same style forever. Bring new life to your swings by purchasing seat cushions in a fabric you like and replace your canopy with a bright new canvas style. A fresh coat of paint on a simple pine porch swing can do wonders, too.

Buy Hammocks and Swings
Back to Guides Directory