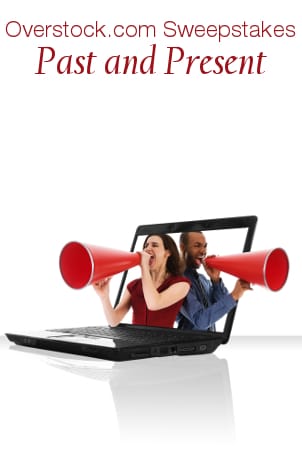 Did you know that Overstock.com has sweepstakes? In fact, the site typically holds several sweepstakes a year. From cars to gift cards, room makeovers to exotic getaways, there are plenty of exciting prizes to win when you enter an Overstock.com sweepstakes. Learn more about the contests, past and present, with this Overstock.com sweepstakes guide.
Overstock.com Sweepstakes:

Where to find current sweepstakes: Overstock.com typically will hold several sweepstakes a year. With everything from daily giveaways to home makeovers and vacations, it's worth your time to enter as many sweepstakes as possible. Visit the Overstock.com homepage or Overstock.com's Facebook page for information on any current sweepstakes, and make sure to check back frequently for new contests.

Remember to watch for holiday sweepstakes: What better time to have a sweepstakes than around big holidays? Overstock.com frequently holds holiday-centered sweepstakes with prizes to fit. From Christmas giveaways to jewelry for Valentine's Day and pampering Mom for Mother's Day, our contests are often related to big events throughout the year. Overstock.com has even held sweepstakes for back-to-school and Black Friday.

We always celebrate Overstocktober: Overstock.com began in October of 1999, and every year, Overstock.com celebrates its anniversary with an event called Overstocktober. Designed to say thank you to our customers for helping us grow over the years, Overstocktober features everything from huge sales to daily giveaways and is often the best time of year to save and win. Check the website daily throughout October for sales and giveaways.

Pin to Win is the new way to be a winner: Do you love Pinterest? The Pin to Win sweepstakes are for you! Overstock.com frequently holds contests where all you have to do is pin Overstock.com products. Past prizes have included dream makeovers for any room in your home or winning your entire holiday wish list. Follow Overstock.com's Pinterest page to watch for future Pin to Win contests.

Take a look at past sweepstakes: Though the contests are closed, it's always fun to look back on Overstock.com's past sweepstakes. Plus, it can give you an idea of what's to come! Past contests have included a vacation to Rio De Janeiro, a complete adventure package in the 7 Days to Summit sweepstakes, The Ultimate Red Sox Experience, a sewing machine for National Craft Month, and a hybrid car in the Hybrid Holiday sweepstakes.
What Do You Want to Do Next?

Shop Home & Garden
Shop Worldstock
Shop Overstock.com Sales
See All Guides
Get More Online Shopping Tips
Learn More about Comparison Shopping