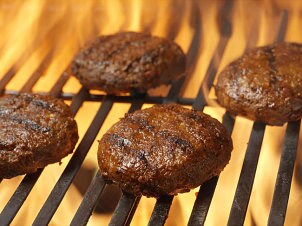 When it's summertime, there's nothing better than firing up your outdoor grill and enjoying some savory barbeque. When's it's cold outside, nothing tastes as delicious as freshly grilled steaks. If you're in the market for an outdoor grill but you're not sure where to start, this outdoor grill buying guide is for you. There are three main types of BBQ grills: gas, charcoal and pellet. Deciding which one is right for you depends on how often you'll use your grill and how much space you have for it. Once you know how to buy an outdoor grill that's right for your patio, all you'll need is the steaks.
Buying an Outdoor Grill:

Gas grills: There are two kinds of gas grills: propane and natural gas. A propane gas grill can be placed anywhere, but you have to buy propane regularly. Natural gas grills require you to have a gas line installed at the location where you want to put your grill. A natural gas grill will cost you less in fuel over the lifetime of your grill but more for the initial setup.

Charcoal versus gas: For authentic barbeque taste, there is nothing like the taste of a charcoal-grilled burger. If you love the taste of food grilled over a charcoal flame, you need a charcoal grill. A classic charcoal grill is fairly simple to use, and even an inexpensive model can last you a long time. Compared to gas grills, charcoal grills don't have many moving parts to worry about, so there's less that can go wrong. The downside of charcoal grills is that they can be harder to light and can take longer to heat up than gas grills. Also, while charcoal grills generally cost less than gas grills, charcoal fuel may add more to the cost of your grill over time than gas.

Pellet grills: Pellet grills use small pellets of hardwood as fuel for grilling or smoking food and can heat up as fast as a gas grill, but, unlike a gas grill, they also add the smoky flavor of wood to your food. Pellet grills operate via a storage bin filled with hardwood pellets that distributes the wood to a burning box at an adjustable rate, which you determine depending on what you're grilling or smoking. Pellet grills are excellent grills; however, they may be a better choice for an experienced griller as opposed to a novice. Pellet grills are typically more expensive than gas or charcoal grills.

Size: Once you've decided which type of grill you want, it's time to figure out how big of a grill you need. First of all, do you live in an apartment with a balcony or a home with a yard? Secondly, what do you plan on grilling? If you think you'll mainly use your outdoor grill for a few burgers, hot dogs and vegetables, you don't need a large grilling area. On the other hand, if you think you'll be using your grill for racks of ribs or dozens of burgers, you need a grill large enough to accommodate big orders. If you plan to use your charcoal or pellet grill as a smoker, keep in mind that you'll also need a tall enough lid to fit over large portions of meat.

Special features: If you know you will need special features such as a rotisserie, side burner, multilevel cooking surfaces or a smoker box, you should plan on buying a larger grill and spending more for these extra features. If you're not sure that you will use all those extras, opt for a basic grill. You can always upgrade later.
Tip from Overstock.com:

While you're online shopping for an outdoor grill, check out Overstock.com's selection of BBQ accessories. A quality BBQ set with spatula, tongs, meat fork and basting brush will have you ready to grill in no time. A grill brush will make cleaning your grill easier, while a grill cover will protect it from the elements. Get all the grilling accessories you need for deeply discounted prices at Overstock.com.

Buy BBQ Grills
Back to Guides Directory