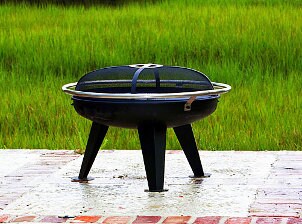 Making your patio more inviting can be as simple as adding an outdoor fireplace and some great garden decor. Outdoor fireplaces are popular not only because they provide a garden center point ideal for parties, but because they can extend the outdoor entertaining season well beyond the warm summer months. If you're looking for outdoor fireplace ideas for your patio, yard or garden, then you've come to the right place; it's time to make your garden the place to see and be seen.
Outdoor Fireplace Ideas:

Fire Pit: Fire pits are typically set into the ground or into your deck. While they may have raised edges, they're essentially ground-based areas for fire. Fire pits can be crafted of stone or any other heat-resistant material; metal and faux stone are also popular choices. Natural stone will require the least long-term maintenance but is more likely to show variation in color and pattern than a man-made product. Fire pits often burn wood, so you can enjoy different scents like cherry wood and pine as you clear your yard of debris.

Wood-burning oven: Being able to cook food outdoors is one of the great advantages to having a yard. Building a wood-burning oven on your deck or patio gives you the freedom to create pizza, burgers and kebabs with the delicate flavor of the outdoors baked right in. Wood-burning ovens will be more permanent and larger than other outdoor fireplace options -- you'll need a chimney and oven area -- but if you have the room and the inclination to cook in the great outdoors, then an outdoor oven will make your day.

Fire barrel: Fire barrels are similar to fire pits but stand higher off the ground and tend to be crafted of metal rather than stone. As the name implies, a fire barrel is usually contained in a large barrel; instead of being flush or nearly flush with the ground, they usually stand 3 to 4 feet high. Fire barrels are most commonly crafted of metal since it's heat- and weather-resistant. They can be left outdoors all season long, but to slow wear and tear, it's best to stow them in the garage during the months when you won't be using them. As you explore fire pits, you'll find some with shapes or patterns cut into the sides; these let firelight out and create dancing shadows around the barrel.

Portable fireplace: If you're not quite ready to commit to a full-size fireplace on your deck, then a portable outdoor fireplace might be the solution. Similar to fire pits or fire barrels, this type of fireplace is generally a large bowl, crafted of metal, set on a moveable stand. The advantage of a portable fireplace is that you can set it up wherever and whenever the mood strikes you. You're ready to enjoy the warmth and ambiance of an outdoor fireplace at the drop of a hat. Make sure to secure the base when you use it.

Buy Outdoor Fireplaces
Back to Guides Directory