Office Supplies Buying Guide
by Staff Writer
You have your office furniture, and your computer is ready to go. What else does your office need? Every professional and home office should be well-stocked with basic office supplies that will make work more efficient and profitable. Office supplies are the extras that keep it moving, and depending on the way you work and what you do, your office will use basic office supplies every day. This office supplies buying guide will help you decide which general office supplies you need.
What You Need to Know: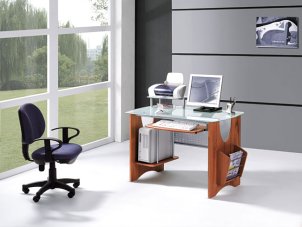 View All Office Supplies ▸
Mail supplies:

A small office may just need a few sizes of envelopes, a supply of address labels and some stamps. If you send a lot of mail, you may want to add a scale. And if your business relies on the mail, be sure to stock your office with a larger variety of mailroom supplies, like padded envelopes, boxes, packing tape and even a mail cart.

Pens, pencils and sticky notes:

You may use your computer for most writing tasks, but it's better to have a pen and note paper handy than to forget your messages or ideas.

Printer paper:

Computer and copy paper is vital. You'll want to have backup paper for peace of mind. You won't worry about running out of paper at a critical moment.

Trash cans:

These may seem unimportant and obvious, but you'd be surprised how often trash cans are forgotten. However, if you're throwing away personal or business papers, use a shredder instead.

Clocks:

If you forget to add a clock in your office, you run the risk of missing important meetings and calls.

Office lighting:

Offices need lots of light, so make sure you have overhead lighting as well as task lighting. With desk lamps that mimic natural light, you will have increased contrast, detail definition and accurate color rendering.

Computer assists:

With memory foam mouse pads and keyboard supports, you can help protect your wrists against tension and Carpal Tunnel Syndrome. Memory foam or gel mouse pads help with relieving points of pressure in your wrists and improving circulation and blood pressure.

Break room supplies:

If you're alone in your home office, you may not need more than a coffee pot and a few snacks. But if you have more people in your office, supply them with a variety of drinks and treats. Don't forget the cups, plates and utensils.

Scissors and paper cutters:

Keep those edges nice and neat. Scissors and paper cutters are perfect for office visuals, signs and forms.

Paper fasteners:

From paper clips to staples, paper fasteners are those little things that make your day go more smoothly.
Tip from Overstock.com
Did you know that you can buy office supplies in bulk from Overstock.com? Ink and toner, mailing supplies, batteries, pens, pencils, markers and more. You will save a lot of money buying these items in bulk. You will also find school supplies in bulk, so shop the wholesale store and save on your school and office supplies.