Office Chair Buying Guide
by Staff Writer
For people who sit at their desk for hours each day, a comfortable office chair is essential. An office chair should fit your body and work environment. Anyone who sits in at a desk every day, whether in a home office or a cubicle, knows that there are pains associated with desk jobs and the wrong desk chairs. Lower back pain, leg fatigue, headaches, sore shoulders and arms, concentration problems and pain in the knees and calves: the list of complaints is large. Eliminate these problems by identifying elements of office chairs that will help and not hinder. Some chairs look great, but the moment you're forced to sit in them for hours, their looks may be the only positive thing about them. How do you find comfortable office furnishings that will support you for hours? This office chair buying guide is here to help you with that question.
Office Chair Ergonomics: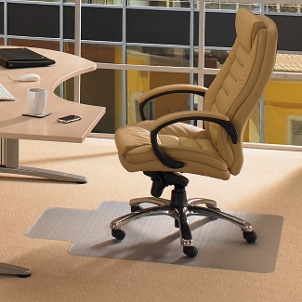 Shop Office Chairs ▸
Back support:

Back rests should provide lumbar support. A contoured backrest is shaped to match the natural curve of your spine; an adjustable contoured backrest will provide the comfort and support your back needs. Office chairs that recline the back will transfer some of the upper body weight to the backrest. Adjustable armrests allow for differences in sizes of bodies. Your trunk, thighs and shoulders will differ from other users, and adjustable armrests can be fine tuned for elbow heights.

Seat support:

A seat that is adjustable in many ways will allow you to change body positions throughout the day. Seat heights should be adjustable to allow multiple users to use the office chair at different heights. The seat should be firm enough to support your weight evenly and soft enough to fit your form. Waterfall seats slope down in the front slightly, which improves the circulation to your lower legs and eliminates leg fatigue.

Position and height:

The position of your body changes throughout the day, and your office chair should make this change easy. Adjusting the tension controls for your body weight and changing the angle of the seat will put some of the upper body weight on the backrest. Swivel office chairs will ease tension caused by twisting at your workstation or desk. Ideally, you want your keyboard at elbow height, feet flat on the floor and your upper calves about 4 inches from the seat cushion.
Materials and Construction
Mesh:

Office chairs made with mesh seating and backing allows air to pass through the office chair. Mesh will help keep your body's heat and moisture buildup from getting out of control. Mesh is useful in hot, humid climates.

Molded foam:

Chairs with molded foam seats and backs are the most common type of office chair. The molded foam contours to the shape of your body.

Top-grain leather:

Top-grain leather is Italian leather and considered to be of the utmost quality. Leather is a common material for executive office chairs. Leather can become hot in warm, humid climates, making them uncomfortable in an unconditioned office.

Imitation leather:

Seats upholstered in imitation leather will give you the look of leather but it will be durable and easier to clean.