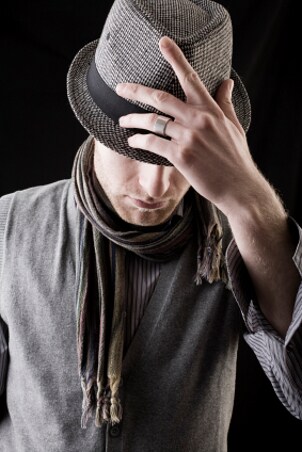 A band is one of the easiest pieces of jewelry for a man to add to his collection. Men's rings are easy to wear and they go with everything; plus, they are available in many styles. Jewelry is always an investment, so use these tips to choose some trendy new bands for your collection.
Trendy Men's Bands:

Checkerboards: Checkerboard rings are very hip. These textured bands are cool and eye-catching. Checkerboard men's bands are usually made from tungsten or stainless steel, which can be laser engraved with the iconic pattern. Some checkerboard bands are decorated with mother-of-pearl, which is a white, iridescent shell.

Floating diamonds: A bit of sparkle takes a band to the next level. Floating gems are especially popular in men's bands because they are unique. Tension settings create the illusion of floating diamonds by squeezing the stone on both sides. Look for thick men's bands with several different floating diamonds.

Spinners: Spinners bring a bit of smart engineering to the jewelry world. Spinner rings have a center portion that moves on its own. Most spinners have a unique design featuring engraved flames, inlaid cables, solid gold details, or precious stones.

Braids: Braids have entered the jewelry world with full force. Match your braided leather necklace with a men's band showcasing woven details. Many men's rings have braids made of metal or cables, which add texture and edginess to the jewelry. Choose from men's bands with one braided cable, two cables, or three braids incorporated right into the ring's design.

Natural: Rings made of wood, shells, and stone are very popular in men's bands. Cool natural rings allow you to wear your favorite elements. Some rings are made of solid wood and stone, while others are just decorated with the natural materials. Stainless steel rings with wood accents are very durable.

Tribal: Tribal designs look great on jewelry, especially men's bands. Tribal patterns may be engraved onto the ring, or they can be created from yellow or rose gold. Research tribal meanings before shopping for men's bands or simply choose the design that you like best.

Estate: Antique jewelry, also known as estate jewelry, is very popular. Many men's bands from antique collections feature designs that go perfectly with modern attire. Look for gemstone rings and signet rings if you desire authentic vintage style.

Buy Men's Rings
Back to Guides Directory