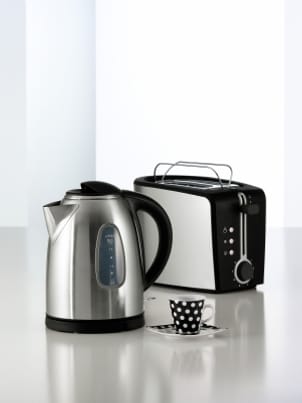 Updating your kitchen can refresh your whole home; whether you're doing a kitchen-wide renovation or just updating some of the basics, kitchen appliances are a good place to start. Kitchen appliances include everything from toasters to freezers, coffee pots to blenders, hand mixers to Panini presses; no matter how big or small you want to start, check out the new trends in kitchen appliances and get going on your perfect kitchen.
Trends in Kitchen Appliances:

Stainless steel: Stainless steel kitchen appliances have taken over as the most popular style. Providing a modern look, stainless steel appliances make any kitchen look sleek and up-to-date. Stainless steel isn't magnetic, so be aware that you can't keep shopping lists and art on the fridge door without extra work. If fighting clutter is a priority, then stainless steel appliances can be a step in the right direction. Stainless steel extends beyond refrigerators and dishwashers: Matched toasters and stand mixers are available and give any kitchen a finished look.

Veneered: If you've cultivated a classic look in your kitchen, you might feel a major appliance, like a stainless steel dishwasher, looks out of place. You can get around this dilemma by choosing veneered kitchen appliances. Refrigerators and more can exactly match your cabinets. You'll sacrifice the magnetic front of a traditional kitchen appliance, so if hanging Jimmy's painting on the fridge is a priority, this may not be the solution for you; If a perfectly coordinated kitchen is your main concern, then you've found your answer.

Counter-depth: Shallow kitchen appliances are showing up in newer kitchens. Designed to line up with the edges of counters, they provide a clean look and open up space in the kitchen. There are also specialty cooktops, generally induction that can be fitted directly into the countertop so you don't have to navigate around a range intruding into your floor plan.

Retro appliances: These specialty kitchen appliances offer the unique look of yesteryear with all the convenience of a modern appliance. Imagine the look of a classic wood burning stove with the convenience of gas. Available in a variety of styles, these can add a splash of color to any kitchen.

Colors: Smaller appliances, like toaster ovens and stand mixers, are the perfect way to brighten a kitchen without committing to a complete overhaul. Choose a candy apple red mixer or a lime green toaster and make your countertop pop.

Buy Appliances
Back to Guides Directory