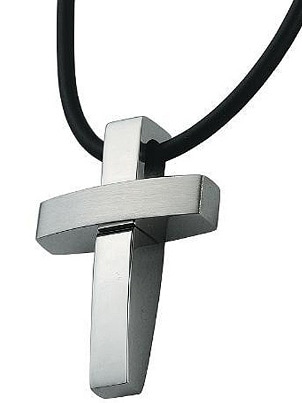 A piece of religious jewelry is one of the best ways to represent your lifestyle and interests. A cross necklace can say so much about you, especially when you choose religious necklaces and cross pendants with a lot of personality. Cross necklaces are no longer limited to basic, bland and boring designs. A trendy cross pendant with gemstones, geometric shapes or unique details will give you religious jewelry to accessorize both casual and dressy outfits. Allow us to help you choose new religious pendants and other cross jewelry with these trends in religious necklaces and pendants.
Trendy New Cross Necklaces:

From industry: Industrial metals are big on the modern jewelry scene. Titanium, tungsten and stainless steel are strong and offer a unique aesthetic. Titanium religious pendants are very lightweight and have a light grey hue. Tungsten cross jewelry has an incredibly sleek appearance. Stainless steel religious jewelry is both durable and affordable. The industrial metals update all religious jewelry, giving it a very modern look.

Gothic influence: Gothic architecture was popular between the 12th and 16th centuries, giving many churches a unique flair. You can incorporate this amazing style into your wardrobe with gothic cross necklaces. Gothic religious necklaces are perfect for a gothic wardrobe, and they also work well with a more mainstream clothing collection. Wear a gothic cross pendant on a long chain with a pencil skirt and belted top to take the edgy look into the workplace.

Tag yourself: Dog tags are very modern and offer many styles. Dog tags with cross designs allow to you bring religion to your look on your own terms. Some dog tags are covered in gemstones in the shape of a cross, while others have cross-shaped carvings. Cross dog tags made of stainless steel, platinum, tungsten, titanium and gold can be worn all the time to keep your religion close to your heart.

How charming: Charm jewelry is very trendy and continues to be a favorite among women of all ages. Charm pendants take several small charms and combine them on one hoop or hook to give you a fun and eye-catching necklace with a lot of texture. Many charm pendants combine several cross charms in different styles and sizes, while others pair cross charms with other charms. You can also make your own charm pendants with several small religious charms.

Buy Cross Necklaces
Back to Guides Directory