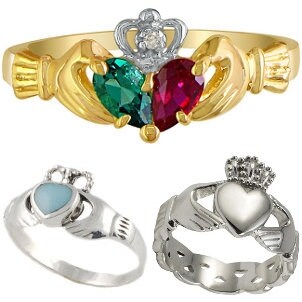 Although they are steeped in tradition and history, Claddagh rings can still be very modern. Traditional Claddagh rings are made of silver or gold and offer the romantic design of a pair of hands holding a heart, which is topped with a crown. Contemporary styles feature this design but are made from modern metals or are decorated with colorful gems. Some feature additional designs and more elaborate styles. When you're shopping for Celtic jewelry, consider this classic Irish ring in an updated design.
Claddagh Ring Trends:

Industrial metals: Some Claddagh jewelry is made from sleek and durable titanium, tungsten, or stainless steel. These industrial metals offer a different look than traditional silver and gold, and they are extremely long-lasting. Rings made of titanium are very lightweight and comfortable, and tungsten jewelry will last a lifetime. Stainless steel rings are both affordable and durable. Industrial metals are especially popular in men's Claddagh rings.

Mixed metals: Even when more traditional metals are used, the look can be trendy when two different metals are combined. Two-tone Claddagh rings have a fresh look, and the combination of two metals adds to the symbolism of two people being intertwined in each other's lives.

Rainbow gemstones: Traditional Claddagh rings are simple and straightforward, but many modern jewelry lovers prefer a bit of color in their rings. Many Celtic rings with the Claddagh design are decorated with a variety of colorful gemstones. Colored diamonds are also available on this iconic Irish jewelry; look for Claddagh rings featuring pink, yellow, or grey diamonds, particularly in the shape of the heart. If you are shopping for a Claddagh wedding ring, look for romantic gemstone embellishments. Red garnets, orange diamonds, and yellow citrines will convey the fiery passion of your romance.

Laser etching: Claddagh rings feature a simple design, but many pieces of modern Celtic jewelry have laser-engraved details for a more elaborate look. Romantic pieces of Irish jewelry with filigree details and precise laser designs are perfect as wedding bands and promise rings.

Celtic knot bands: Claddagh rings are already rich with Irish history, but the style can be enhanced by the addition of a band made of Celtic knot designs. The interlaced lines make interesting bands that set them apart from traditional Claddagh rings.
What Do You Want to Do Next?

Shop for Claddagh Rings
Shop for Men's Claddagh Rings
See All Rings
See All Guides
Read More Jewelry Guides
Learn More about Rings