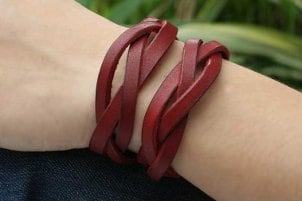 Leather has always been trendy, thanks to its striking good looks, dependable durability and wide range of uses. Braided leather bracelets are among the coolest jewelry this season, with a fresh crop of styles ranging in color, decoration and pattern. If you're in the market for a trendy new bracelet, consider one of these hip new pieces.
Trendy Braided Leather Bracelets:

Colors: Brown and black leather bracelets are great when you want neutral accessories, but colored leather bracelets are much more vibrant. Look for red, blue and yellow braided leather bracelets if you're ready to branch out. White leather bracelets are very mod and can stand on their own or be layered with funky plastic bangles and colorful jelly bracelets. Some leather bracelets are braided with three different colors of leather for a bold splash of style.

Metal: The aesthetic of metal combined with leather is timeless. Many leather bracelets have metal links, chains or hooks woven right into the jewelry. Metal and leather bracelets can instantly transform an outfit and give you modern, edgy style.

Beads: A softer alternative to metal, beads are often woven into leather bracelet patterns. A few colorful beads placed thoughtfully in a braided leather bracelet can create a stunning piece of art with Bohemian flair.

Charms: If you love traditional charm bracelets on link chains, then you'll adore braided leather charm bracelets. Loosely braided leather leaves plenty of room for charms to be clipped on randomly, giving these bracelets a look of controlled chaos. Don a braided leather charm bracelet when you want to evoke the look of a well-traveled explorer.

Studded: Studded leather cuffs are popular, but don't forget about studded-leather braided bracelets. Braided bracelets often feature one or two pieces of studded leather, adding loads of texture to the design.

Hardware: The clasps and fasteners on many bracelets may seem like afterthoughts, but the hardware often is a main part of jewelry design. Braided leather bracelets with chunky clips and clasps are very fashionable. Bold fasteners made of yellow gold, silver or bronze can enhance any piece of jewelry and stand out among your accessories.

Buy Bracelets
Back to Guides Directory