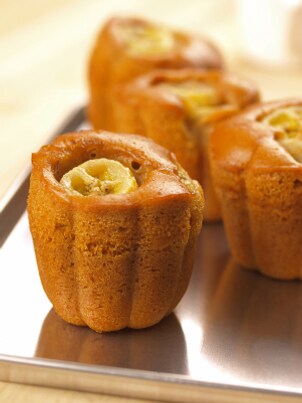 Whipping up a secret family recipe gets easier every year. There's nothing wrong with taking a little extra help in the kitchen when you can get it, and trendy new bakeware is happy to lend a hand. From silicone accessories to dishes that help you cater to your family's tastes, these new pieces are fun, functional and fabulous.
Bakeware Trends:

Silicone baking mats: Parchment paper makes for easy cleanup and is necessary for some baking projects, but using it regularly can be expensive. Silicone baking mats offer the same benefits of parchment paper, but they are reusable. Baking mats also encourage even heat distribution for better baking results. Many baking mats can be cleaned in the dishwasher, so you can always have silicone mats on hand for a baking project.

Novelty cake pans: Novelty cake pans are not new, but innovative designs are being introduced to make birthdays and baby showers more fun. Skip the heart-shaped cake pan and choose a hamburger cake, a cupcake cake or a sandwich-cookie cake. Choose cake pans that suit a variety of events to get the most out of this fun investment.

Multi-section casserole dishes: The modern kitchen is all about variety. You should be able to have the flavors you want while giving the other members of your family their favorites, too. With a multi-section casserole dish, you can easily prepare two or three different casseroles at once. Create your famous macaroni and cheese and bake half of the casserole with fresh mushrooms and caramelized onions and the other half with diced ham and roasted red peppers.

Buy Bakeware
Back to Guides Directory