Home Decorating Ideas on a Budget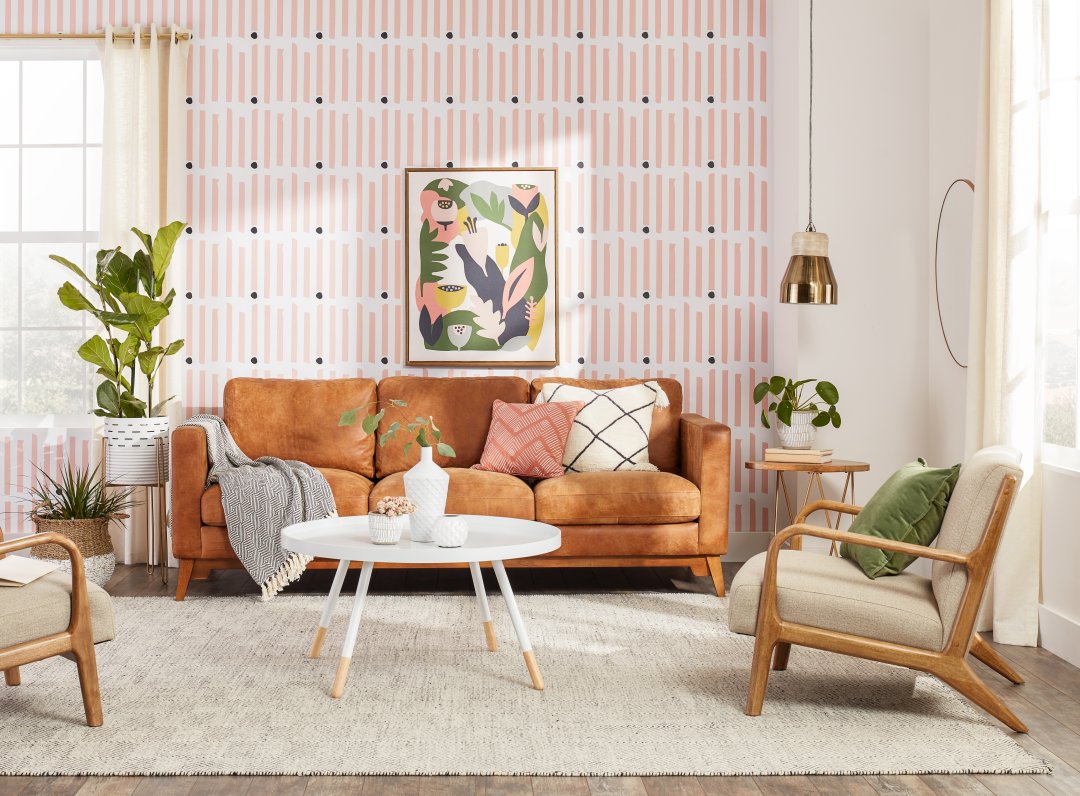 Now that the boxes are unpacked, the true adventure of living in a new home begins! Decorating is all about making a home feel special, and there's great news: you don't have to break the bank to create a cozy, stylish home. Check out our money-saving tips for decorating your new home on a budget.
Living Room Ideas on a Budget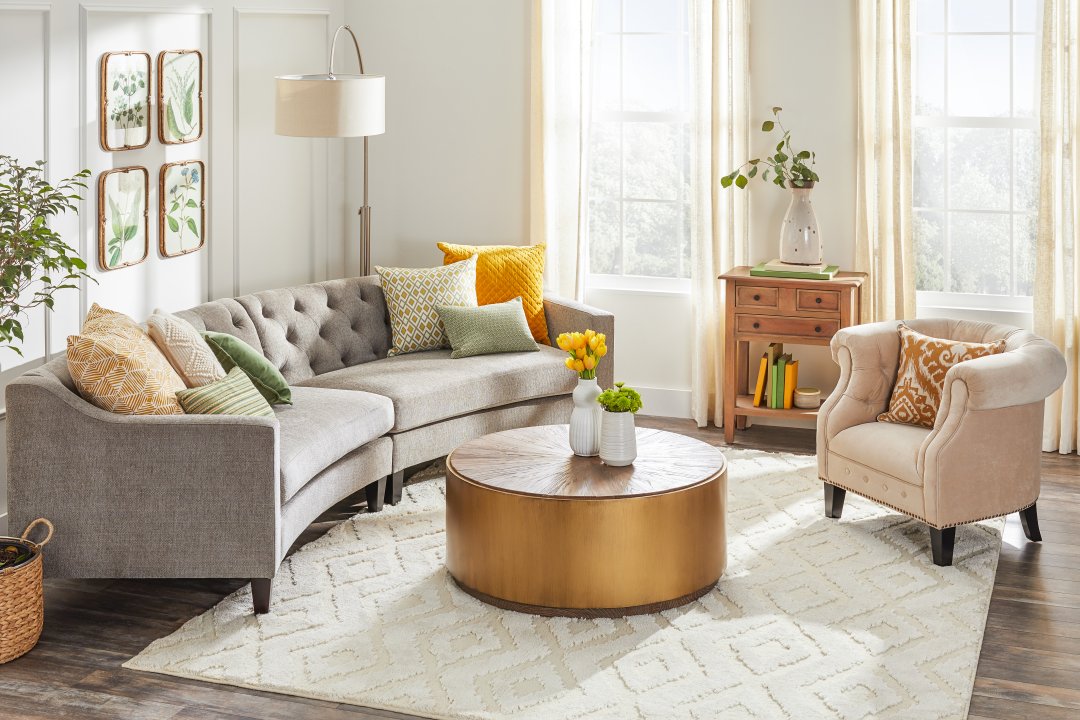 The perfect living room furniture is inviting and comfortable. The tricky part can be finding quality pieces at a reasonable price point. You also need enough furniture to entertain friends and relax with the whole family. Shopping smart allows you to prioritize your purchases. You'll not only fill your space, but ensure each piece has a personal touch. Check out our tips below to help design your dream living room on a budget.
Shopping smart allows you to prioritize your purchases. You'll not only fill your space, but ensure each piece has a personal touch.
Affordable Living Room Furniture
Durable Sofa
For the most cost-effective sofa, choose materials that suit your lifestyle. Cotton and linen sofas will have the best value because they combine comfort with easy maintenance. To make the most of your budget and your space, consider a sofa bed for when friends and family visit. See our Sofa Buying Guide for more tips.
Shop Affordable Sofas
Multi-Purpose Accent Table
The right accent table can do more than complete your space visually or provide a place to set down drinks. Lift-top and tiered coffee tables can help save money on storage pieces. They provide additional room to display your favorite treasures or hide them away. Whether you use a pouf to double as seating or a set of nesting tables that stack together, multi-functional tables are more budget-friendly.
Shop Affordable Coffee Tables
Sturdy Area Rug
The right area rug can pull your living room furniture together for a cohesive look. Natural fiber rugs can cover more for less, and their neutral tones go with every style of decor. Jute is a softer natural fiber to provide a bit more pampering for your feet. For everything you need to know about rug sizes, materials, and care, see The Complete Rug Buying Guide.
Shop Affordable Area Rugs
Arced Floor Lamp
With a tall floor lamp, you'll need fewer light fixtures to brighten your space. A floor lamp can also draw the eye upward, making your living room feel taller, or it can tastefully fill and brighten an empty corner. An arced floor lamp is especially helpful when reading. For more on finding affordable living room lighting, check out Best Lighting Fixtures for Any Budget.
Shop Affordable Floor Lamps
Impactful Artwork
A little money can go a long way when you spend it on art. Art adds color, visual interest, personality, and style to your living room. Cut down on the expense of framing your art by purchasing framed prints or gallery-wrapped canvases. Our guide, Best Wall Art for Your Home, can help you find art that inspires you.
Shop Affordable Art
Colorful Decorative Accessories
If you want to change the look of your living room with minimal expense and time, swap out your throw pillows, vases, and other decorative accessories. You can refresh your space by season or whenever the mood strikes. Follow your own design style or use the latest home trends to help you choose the perfect decor for your space.
Shop Affordable Decor
Dining Room Furniture Ideas on a Budget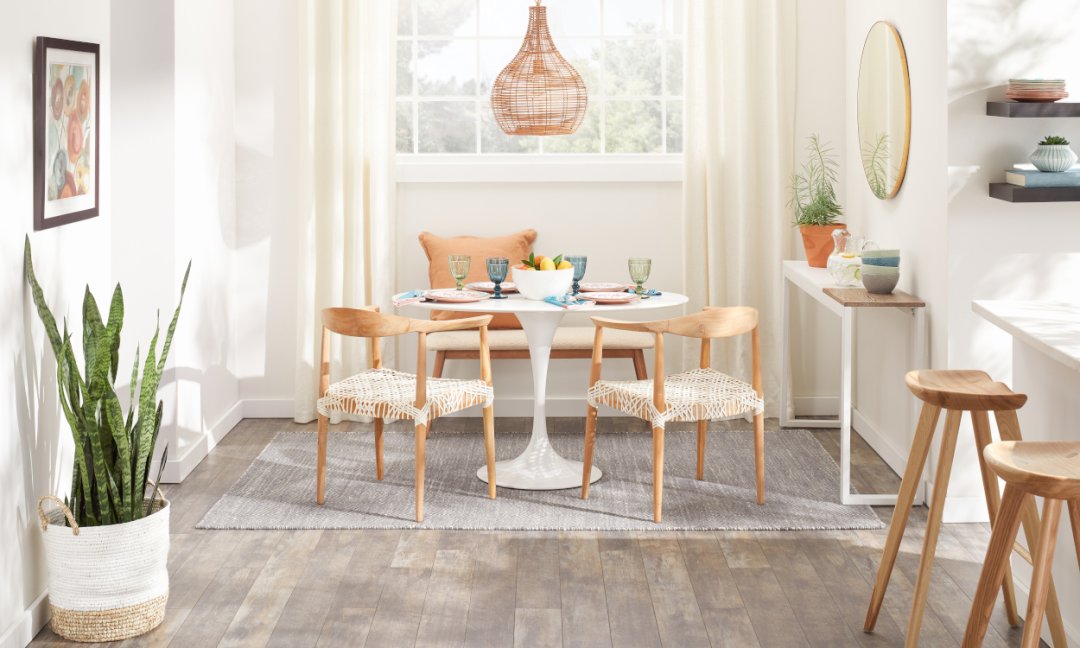 You don't have to spend a fortune to have a dining room that fits your decorating and entertaining style. Whether you embrace a casual vibe or want a more formal feel, there is affordable dining room furniture to create a place where good food and memories happen.
You don't have to spend a fortune to have a dining room that fits your decorating and entertaining style.
Affordable Dining Room Furniture
Matching Dining Set
Furnishing your dining room is simple and economical with a dining room set. Available in a variety of styles, materials, and seating configurations, a dining set takes the guesswork out of matching a table to chairs since both are included. For more information on options, see our Dining Room Furniture Buying Guide.
Shop Affordable Dining Sets
Overhead Pendant Lighting
Changing your dining room lighting is a low cost, big impact move. Installing a chandelier or pendant light in your dining area creates an inviting ambiance and a focal point. For more lighting ideas for your space, read our Best Light Fixtures for Your Dining Room guide.
Shop Affordable Lighting
Extra Serving Space
To get the most bang for your buck, consider a buffet or console for your dining room. You can use it to display favorite dinnerware or keep serving pieces close and convenient. Whether you use your buffet as a decorating element or for additional storage and serving space, you can find one that coordinates with the theme of your dining room decor.
Shop Affordable Buffets
Dinnerware Basics
Once you've established your dining room layout, add some flair to your space with dinnerware. A new set of dishes can infuse your dining time with colors and patterns that make every family and formal meal feel special.
Shop Affordable Dinnerware
Bedroom Furniture Ideas on a Budget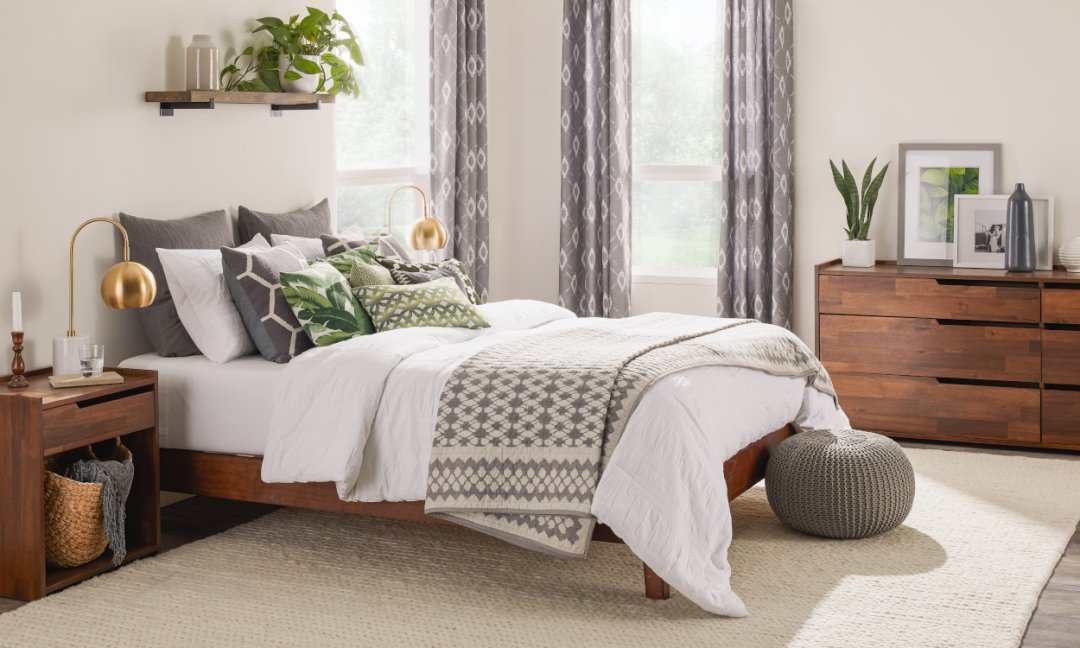 Bedrooms don't get the traffic that other areas of a home do, so they often take a back seat when homeowners are prioritizing decorating dollars. But when you can create a restful haven for under $1,000, there's no reason to hold back. Pull together a few furniture pieces with plush bedding and tranquil lighting, and you'll be enjoying your personal sanctuary in no time.
When you can create a restful haven for under $1,000, there's no reason to hold back.
Storage Bed
Giving your bedroom a makeover starts with the focal point of the room — the bed. You won't have to spend a fortune to get the bed of your dreams. From classic upholstered beds to modern platform beds, you can choose from a range of styles to start your bedroom design. For smaller rooms, a bed with built-in drawers provides a space-saving storage option.
Shop Affordable Beds
Stylish Dresser
When furnishing your bedroom, the right dresser is important. A chest of drawers offers storage beyond your closet while adding style to your collection of bedroom furniture. It will successfully store your clothes while keeping your bedroom organized and tidy.
Shop Affordable Dressers
Storage Nightstand
Nightstands or bedside tables are essential in creating a balanced feel in your bedroom. You'll want your nightstand to be big enough to keep your bedtime routine essentials — like cell phones, lamps, glasses, and books — close at hand. And you'll also want the height of your nightstand to be about the same as the height of your mattress. Read our Nightstand Buying Guide for what to consider before you purchase.
Shop Affordable Nightstands
Compact Table Lamp
When designing your restful space, make sure to include a table lamp. Whether used on a bedside table to make it easier to read or placed on a dresser to create a cozy glow, extra lighting in the bedroom is typically very affordable and always a good use of your decorating budget. For more help, see our Best Table Lamp for Your Bedroom guide.
Shop Affordable Table Lamps
Privacy Curtains
Window treatments are important in every room of your house, but especially in the bedroom where privacy is essential. If you like to sleep in late, blackout blinds and shades are ideal for minimizing the light coming in. They're also great for layering with curtains for an on-trend design element. Read our Blinds Buying Guide for more inspiration for your bedroom windows.
Shop Affordable Blinds
Organic Bedding
When putting a bedroom together, plush bedding is the final touch. While bedding should be comfortable, it doesn't have to be expensive. For tips on how to sleep like royalty without spending a fortune, see our guide How to Find Discount Bedding.
Shop Affordable Bedding
---
---
---
---
---