Neckties Buying Guide
by Stephanie Petersen
As one of the few accessories for men, neckties get a lot of attention. Ties complete a suit, show respect in a formal setting, add color to an outfit, and make excellent gifts. This buying guide has tips on buying men's neckwear for yourself or for a gift, tying and wearing ties properly, and keeping your ties looking great.
Necktie Sizes: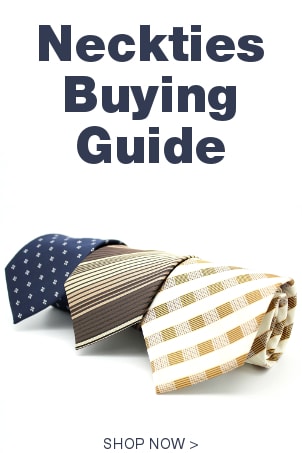 Shop Silk Ties ▸
Four-in-hand:

The four-in-hand tie is the standard men's necktie. Often made of silk, these can also be made out of silk-like synthetics, cotton, linen, or wool. The fabric is cut in three segments on the bias -- diagonally from the fabric -- which lets the tie lay flat. They are always lined to help the fabric knot properly. Four-in-hand ties usually range in length from 55 inches to 60 inches, with big-and-tall ties coming in at about 62 inches. Different lengths work for men with different heights and allow for different knots to be tied. The width of neckties changes with fashion; the classic width is 3-1/4 inches, but you may see trendy ties as narrow as 1-inch wide.

Six-fold and seven-fold ties:

Made using the traditional method of folding a square of silk six or seven times, these luxurious neckties are not as common and can be quite expensive because of all the silk required to make them. Six- and seven-fold silk ties are not lined.

Bow ties:

Available in two styles, the straight batwing or the more familiar butterfly, bow ties are a jaunty alternative to regular ties. A popular element of black-tie dressing, bow ties are right at home with a tuxedo and cummerbund. The sizes are the same as dress shirt collar sizes. If you haven't worn a bow tie before but would like to try it, practice tying one around your leg just like you would tie your shoes.
Necktie Styles:
Solid ties:

Solid ties are the simplest to coordinate with your button-down shirts and suits. A patterned shirt or a white shirt could each work with a versatile solid-colored tie. When pairing solid neckwear with a patterned shirt, choose a color that is in the pattern. With a white shirt, choose a color that complements your suit or blazer.

Striped ties:

Striped ties are a tradition in menswear, and a striped tie is almost always appropriate. It can be worn easily with a white dress shirt, but you can also wear one with a striped shirt as long as the colors are complementary and the stripes are not the same size. If you're wearing a striped tie with a striped shirt, make sure your suit is a solid color, so the look isn't overwhelming.

Patterned ties:

Paisley, polka dot, abstract designs, even flowers decorate some men's ties. Patterned ties follow the same rules as striped ties: Make sure the pattern isn't the same size as a pattern on your shirt, and choose a pattern in complementary colors to your shirt. Patterns in subdued colors can be appropriate for more formal occasions, but save the pink flowers for a garden wedding.

Novelty ties:

Silk ties with prints featuring holiday themes, sports teams, or cartoon characters should be reserved for light-hearted occasions. Novelty fabrics, like snake skin or stingray skin, also make for ties that can't always be worn as office wear. Depending on where you live, you may also consider bolo ties -- which consist of a braided leather string with a decorative clasp -- to be novelty ties, so you'll want to consider the occasion and the location before you choose to wear one.
Caring for Neckties:
Remove it carefully:

When you take off your tie, undo the knot by doing the knot steps backwards. Don't pull the thinner end of the tie through; this will cause the fabric to wear out quickly.

Professional care:

Occasionally your ties will need to have stains removed, and you'll want to have your ties dry cleaned whether or not they're made of silk. This will help your ties retain their shape and luster.

Store them properly:

Hanging your ties on a special tie hanger will let wrinkles fall out. Make sure not to overload the hanger, as this can cause more wrinkles. You can also roll your ties up loosely and keep them in a drawer. Knit ties should be rolled for storage, not hung.