Natural Health and Beauty Products Buying Guide
by Stephanie Petersen
When you've decided to live a more eco-friendly lifestyle, one of the best places to start is with natural health and beauty products. However, you may have questions about what makes a product natural or why it is considered organic. This natural health and beauty products buying guide will tell you what you need to know, so you can start living a greener lifestyle.
Buying Natural Products: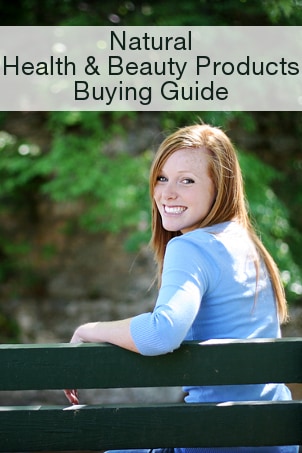 Shop Natural Soaps & Lotions ▸
Don't trust every label you see:

The U.S. government does not currently regulate how the "natural" label is applied to personal care products. There are no laws requiring pre-market testing for an ingredient's safety prior to its inclusion in a personal care product. Many products with a "natural" or "made with organic ingredients" label may only use a small percentage of natural ingredients. Many products use harsh, synthetic chemicals to enhance absorption or as preservatives. In that case, no special labeling is required.

Look for reliable certifications:

If a product is certified as natural or organic by a trusted organization, you can rest assured that it truly is. Look for these certifications in the product descriptions when you're shopping online.

Certifications You Can Trust:

Certified USDA organic: In order for a health or beauty product to be certified organic by the U.S. Department of Agriculture, at least 95 percent of the ingredients must be natural or derived from natural sources. The other 5 percent is generally made up of ingredients that keep the product fresh while it is shipped to you and while it's in your medicine cabinet.

The Natural Standard: Products that meet the Natural Standard, as defined by the Natural Products Association, are made mainly with natural ingredients, contain no ingredients that may have suspected health risks, have not been tested on animals, and use environmentally sensitive packaging.

BDIH certification: BDIH, a German association that developed guidelines for certified natural cosmetics in Europe, defines natural products as those with high-quality plant-based ingredients and no synthetic colors or fragrances, no silicones, no paraffin, and no petroleum products.

EKO organic mark: To be eligible for the compulsory EKO organic mark, products must be made with 95 percent organic ingredients and without any ingredients that have been genetically modified or radioactively irradiated. The EKO mark is owned by the Dutch certifying organization SKAL and can be found on most organic products from European Union countries.

Watch for red-flag ingredients:

Reading labels is an important part of any natural lifestyle, whether it's food ingredients or beauty product ingredients. Get to know a few of the ingredients that may be harmful and keep them in mind when you are shopping.

Ingredients to Avoid:

Petroleum byproducts
Formaldehyde
Urea
Oxybenzone
Benzyl enhancers
Sulfates
Phthalates
Benzoates
Ingredients ending in "paraben"

Understand why natural products may cost more:

Fillers and chemicals are the cheap, fast way to make a product. When ingredients are grown organically, processed in an eco-friendly way, and packaged in recyclable or biodegradable packaging, more money and time is spent to create the final product. And while that may show up in the price, the health of your family -- and the planet -- is worth every penny.