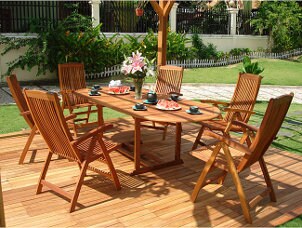 Few things are better than enjoying beautiful weather from the comfort of your own patio. Sitting outside when the weather is nice, sipping a cool beverage, and relaxing are the things that makes summer great, and the perfect patio furniture will make it even better. Comfortable chairs, properly sized tables, even a hammock or swing: These are the things you need to make summer the best it can be.
Essential Patio Furniture:

Tables: Patio tables come in a variety of sizes, shapes, and materials. To ensure your table will survive the summer, make sure to pick a material appropriate for the climate where you live. Wrought iron is a good choice for nearly every environment, and wicker does well in dry climates. The next thing to consider in choosing a table is size. If you love alone-time, then a bistro table will serve you well; designed to accommodate only one or two people, these tables are the perfect place for a cup of coffee. If dinner parties are more your style, consider a round table to encourage conversation or a rectangular table to accommodate a lot of people.

Chairs and benches: Once you have a table, choosing chairs is the obvious next step in properly outfitting your patio. If you've picked a bar table, you'll want to make sure to get chairs that are appropriately tall; sitting below table height isn't ideal. Wide chairs are good for curling up with a book while more structured chairs are better for enjoying a meal. Benches are also a good option for hanging out; long benches work well at picnic tables, and smaller benches can provide the perfect place for canoodling on a warm summer evening. Whatever type of chair you choose, make sure it has good cushions; nothing is worse than ending a party early because of uncomfortable furniture.

Hammocks and loungers: If serious lounging is part of your patio plan, then you need either a hammock or a lounge chair. A hammock is the perfect place to nap, unwind, and enjoy a breeze. It is not, however, ideal for multiple people unless the people you're lounging with are close friends. Recent advances in hammock technologies include portable stands, so you can enjoy a hammock even if you don't have sturdy trees at your disposal. A great lounging alternative is a reclining patio chair. Available in both moveable and pre-reclined designs, lounge chairs are designed to put you at ease and are often made of breathable mesh for ultimate comfort.

Swings: Porch swings are a classic addition to any patio. Combining the support of a chair with the carefree feel of a hammock, they are considered by many to be the best of the patio seating options. Invest in a swing large enough for several people or treat yourself and buy a single-seat swing to use by yourself.
What Do You Want to Do Next?

Shop Patio Sofas, Chairs & Sectionals
Shop Outdoor Dining Sets
Shop All Patio Furniture
See All Guides
Read More Garden & Patio Guides
Learn More about Patio Furniture