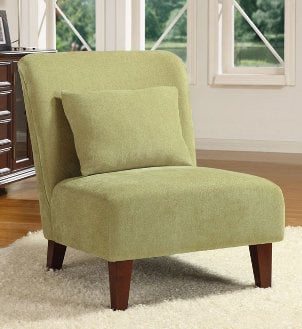 Visitors make a lot of assumptions about you and your home based on the type of furniture you display. In addition to being on display, your home's other job is to function as your personal sanctuary. Let your guest's first impression be the correct impression when they get an eyeful your accent furniture. Your home will naturally reflect your personal taste when you invest in the right kind of furniture. Coming home to a spectacularly decorated living room after a long day at the office or running errands will go a long way in helping you relax. Below is a list of must-have accent furniture for all homes.
Essential Accent Furniture:

Accent chairs. Adding an accent chair to your already existing living room furniture can change the feel of the room without going into a major renovating overhaul. It's easy to match your style with the large selection of modern and contemporary accent chairs. Whether you just want a pop of color for your living room furniture or some extra seating for guests, accent chairs fit into any existing design scheme. These chairs come in a variety of cotton, leather and microsuede fabrics. Take your pick of an armless armchair or choose between stationary and rocking chairs. Pick a bold pattern that makes your chair stand out or choose a chair that smoothly and naturally matches your current furniture decor.

Accent lamps. A little extra light will open up your room and make it seem more inviting. No one wants to sit in the dark, especially during a party. These handy accent lamps can be hung from the walls or ceiling or placed on end tables or the floor. Bringing extra lighting to a room brightens and improves a room's look and the moods of those present. An elegant pendant hanging in your entryway will set the tone for the rest of your home. Installing a small chandelier in a bedroom will really give it a personal touch. Get a matching table lamp set and put the lamps on an end table to frame your couch. You can invest in a single lamp or a floor lamp to get that one-of-a-kind look for your home.

Accent tables. The decoration possibilities are endless when it comes to furniture like accent tables. You can choose from coffee tables, end tables, wall tables and bedside tables, and it doesn't just stop when you add the accent table. In addition, you can add all sorts of holiday or party decorations, like decorated picture frames or knickknacks, to this handy piece of furniture. Your home will look like it came straight out of a fashionable furniture magazine.

Accent ottomans. These useful pieces of home furniture do a lot for a room. In addition to looking fabulous and fashionable, some come with additional storage as a bonus. Pick an accent ottoman that matches your couch or pick a brightly colored ottoman for an extra pop of color.

Accent chests. These pieces of accent home furniture look great in your home's entry way, bedroom or kitchen. They come with a variety of storage chests and drawers to keep your home looking neat and tidy in case of unexpected visitors. They're also perfect for accent decor like vases or bowls filled with seasonal fruits or flowers.

Buy Furniture
Back to Guides Directory