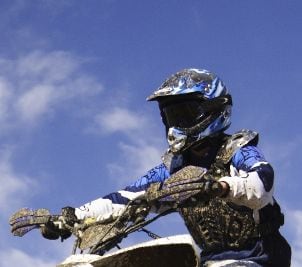 Whether you're commuting to work or riding across the country, you need motorcycle helmets to keep you safe and protected from wind and harsh weather. With the many different types, styles and brands of bike helmets on the market, choosing the best motorcycle helmet may be a more difficult task than choosing the right motorcycle. Consider the construction and rating system first; then look at the various styles available and choose motorbike helmets that are comfortable and fit properly. This motorcycle helmet buying guide will help you find the best motorcycle helmet that provides the protection you need and the comfort you want.
Motorcycle Helmet Construction:

Materials: Motorcycle helmets are comprised of a shell and an inner liner. The shell is usually made from a molded polycarbonate plastic or a fiber composite consisting of fiberglass, carbon fiber or a Kevlar-like material. Polycarbonate shells are less expensive to make, which makes them less expensive to buy. Fiberglass and Kevlar bike helmets are more expensive but also considerably lighter in weight. The inner liner, which is what absorbs shock during a crash, is made of expanded polystyrene, similar to what you find in insulated outdoor drink coolers. This material crushes during impact, so it's important to replace a helmet after it has been involved in a crash. Make sure you also carefully check vintage motorcycle helmets for damage when purchasing them.
Motorcycle Helmet Rating Systems:

DOT rating: It is mandatory that all helmets sold in the United States meet standards issued by the U.S. Department of Transportation (DOT). These standards, developed from guidelines set by the American National Standards Institute (ANSI), ensure that the helmet will withstand significant impact, prevent penetration and have a secure fastening system. DOT helmets will include a certification sticker; if a helmet does not have a DOT certification sticker, don't even consider using it. You will also want to be cautious when buying vintage motorcycle helmets, as these may not be up to current safety standards.

Snell standards: Another recognition a helmet can have is Snell certification. This certification is not mandatory and is considered more stringent than DOT standards. This standard was developed in the late 1950s after the death of Pete Snell in a car-racing accident. The Snell foundation is a nonprofit organization dedicated to improving safety standards. While a Snell approval is not required on motorbike helmets, it is a sign that the manufacturer is following the very best safety practices available.

Other rating systems: Other ratings you may see on helmets include the British Standards Institute (BSI) certification and the European Union (ECE) certification. They are similar to DOT standards and may be considered safe if they also have certification, like DOT helmets.
Motorcycle Helmet Designs:

Full-face helmet: The coverage that a full-face motorcycle helmet provides gives a rider the greatest amount of head protection possible. These helmets are based on designs used by professional sports-motorcycle road racers and, therefore, often carry the Snell certification as well as the DOT rating. A full-face motorcycle helmet protects the neck, ears, eyes, face and chin. In addition, this helmet design helps to keep the rain, wind, bugs, rocks, dirt and dust off your face due to the complete wrap-around design. If you are looking for a full-face helmet, be sure to select one that does not block your peripheral vision. Also, if you wear glasses, make sure the helmet is comfortable on your head while wearing them.

Open-face helmet: An open-face motorcycle helmet, also known as a three-quarter helmet, protects the head, neck, ears and eyes but does not protect the lower face, chin or neck. Although there is less coverage, an open-face motorcycle helmet is much more convenient than a full-face helmet. You can leave the helmet on while drinking, eating, taking photographs or any other activity that involves using your face. This type of helmet also gives you adequate coverage for rain, bugs, dirt and dust, provided you use it with an attachable face shield.

Half-helmet: As the name indicates, this helmet design protects half of your head. To be specific, it protects the top and sides of your head and your ears. Half-helmets are easy to put on and take off and do not obstruct your vision. Half-helmets sometimes feature leather ear flaps. There is no protection at all of the face, chin, teeth, nose, neck or eyes, making these far less effective than either the full-face or open-face helmets. Still, it will help you avoid skull injuries.

Beanie helmet: A beanie helmet, also sometimes called a "puddin' bowl," offers the minimum amount of protection a helmet can give you. Basically, it protects the top of your head, leaving your ears, nose, mouth and every other part of your face exposed. The benefits to beanie helmets are that you can leave them on almost indefinitely since they don't interfere with any activities. They are easy to put on and take off and are often less expensive than other types of helmets. Those wishing to wear beanie helmets should make sure they are DOT-approved, as there are many novelty helmets of this design that are not made to be used as head protection.
Motorcycle Helmet Fits:

Sizes: Just because everybody's head is more or less round doesn't mean that one shape of helmet will fit everyone perfectly. Helmets come in a variety of shapes to fit a variety of head shapes. Most manufacturers have fitting charts, which is a good place to start. Usually, the sizes will range from small to extra large. When you try on a helmet, remember that it should be snug and also comfortable. The helmet should be tight against your forehead; you should not be able to put your thumb between the helmet and your forehead. After you've found a helmet with a good fit, get on a motorcycle, or at least assume a riding position, to ensure the helmet does not impact your vision. If you wear glasses, make sure you take that into consideration as well. Finally, make sure you like how it looks. While that may sound superfluous, chances are you'll be more apt to wear your helmet when you ride if you like how it looks.

Replacement: An important thing to remember is that motorcycle helmets are designed to be effective for one major impact. If you are in a crash, replace your helmet immediately. Helmets are also affected by age, so it's a good idea to replace your helmet every four to five years even if it hasn't had significant impacts.

Buy Helmets
Back to Guides Directory