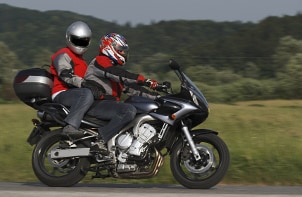 Owning and riding a motorcycle is a lot of fun, especially with the right motorcycle gear. Once you have the basics -- your bike, motorcycle helmets and motorcycle jackets -- there is more available to make your riding time even more enjoyable. In this motorcycle gear buying guide, we will show you how to buy motorcycle gear that will serve you well, whether you're a motorcycle commuter, tour rider or sports enthusiast. The gear we will focus on includes motorcycle clothing items, such as motorcycle gloves, rain suits, boots and pants, and motorcycle accessories, such as motorcycle covers and bags.
Motorcycle Gloves:

Protection. While motorcycle gloves perform other functions, such as providing warmth, their main function is to save your hands in a fall. When a person falls, it's natural to reach forward with palms down to break the fall. Without gloves, a motorcyclist will lose lots of skin and probably a significant amount of blood by doing this. There are two main styles of gloves to help prevent this from happening: leather gloves and textile gloves. Both styles are available as full gloves and fingerless gloves.

Leather. Leather gloves have been in use since motorcycles were invented. Today's leather motorcycle gloves are generally made from cow hide and are available in different thicknesses. When shopping for a good pair of leather gloves, look for two things: thickness of the leather and robustness of the stitching. Leather motorcycle gloves are relatively inexpensive and long-lasting. They can also be repaired more easily than textile gloves if damaged. While leather motorcycle gloves offer great wind resistance, they are not water-resistant and can shrink once they get wet. They feature high abrasion resistance but puncture more easily than many textile gloves and also become hot in warm weather.

Textile. Today's textile motorcycle gloves are generally made from high-tech man-made materials, such as Kevlar and ballistic nylon. As new materials are developed, textile motorcycle gloves continue to improve, becoming a viable choice for bikers looking for maximum comfort and protection. These gloves are usually waterproof, making them the smart choice for those who ride in the rain. In addition to providing good abrasion resistance, textile gloves also have good puncture resistance and do not shrink once they are wet. Many textile gloves feature breathable fabrics, making them cooler to wear in warm weather. A good pair of textile gloves will be more expensive than a pair of leather gloves.
Motorcycle Boots:

Safety. There are no set standards for motorcycle boots, which allows you to purchase the motorcycle boots that are most appealing to you. That being said, there are certain features to look for in regards to comfort and safety. First of all, motorcycle boots should at least cover the ball of your ankles and be made from leather. In addition, they should be comfortable to walk in, have good traction and be resistant to gas and oil. It's also a smart idea to have reflective material incorporated into the boot, whether it comes that way or you do it yourself. Many riders also select steel-toe boots for additional protection.

Closures. Another option you have is how the boot closes. Boots with laces are comfortable, but they can also be a hazard if the laces become untied. Many riders prefer boots that slip on or close with buckles, zippers and Velcro straps to avoid potential lace problems. No matter what style closure you use, make sure that your boot is securely on your foot.
Motorcycle Pants:

Chaps. Many riders wear leather or textile chaps as part of their motorcycle riding gear. Motorcycle chaps are a step-up in protection from jeans alone, offering windproof and waterproof capabilities, but they do not cover the areas that are most often injured in crashes -- the bottom, the groin and the hips. However, longer motorcycle jackets can add additional protection to the bottom and hips.

Leather pants. While leather motorcycle pants are expensive, they do offer superior protection to the rider because of the areas they cover. Not only do they offer greater abrasion protection in spills; they also protect the rider from road rocks and bugs that one might encounter while riding. They also match your stylish leather motorcycle jackets. The drawbacks to leather pants, other than their cost, are that they aren't water-resistant, can shrink when wet and are poorly ventilated.

Textile pants. With advancement in textile technology and ever-improving synthetic fabric development, textile motorcycle pants are becoming more popular all the time. Most textile motorcycle pants are designed to be worn over jeans, and when the two are combined, they offer roughly the same amount of protection as leather pants. Other advantages to textile pants are that they are usually less bulky, less expensive, more breathable and more water-resistant than leather motorcycle clothing.
Motorcycle Rain Gear:

Materials. There are three main waterproof fabrics: polyvinyls (PVC), coated fabrics and laminated fabrics. PVC fabrics are waterproof but have no ability to "breathe," which means that they need to possess vents to keep the wearer from becoming hot and sweaty. PVC rain suits are generally the least expensive motorcycle riding gear. Coated and laminated fabrics have an outer layer that provides a durable outer shell and a coated inside layer that provides a moisture barrier. Coated fabrics have a micro-porous coating, while laminated fabrics possess a micro-porous membrane. Both keep rain from entering but are porous enough to allow sweat to escape, making these fabrics breathable. Motorcycle rain gear made from these fabrics is generally more expensive but is also very durable and will last for many years with proper care.

Closures. Having waterproof material is important, but if water can get to your body through the openings, it still isn't an effective suit. For motorcyclists, it's important to have a tail in the rain jacket long enough to cover the top of the rain pants while you're in the riding position. Other areas where water can get in are the collar and wrist openings, so make sure any rain suit you consider can close snugly in those areas. Many rain jackets feature a fleece-lined collar to help keep moisture out while saving your neck from becoming chapped.

Reflective material. When you're riding in the rain, it's important to be seen by traffic. That's why your motorcycle rain gear needs to have plenty of reflective material on it. Usually, rain suits have reflective tape and reflective piping in addition to being offered in bright, easy-to-see colors.

Pockets. As with motorcycle jackets, make sure your rain suit has plenty of closable, usable pockets in which to store your valuables. Rain suit pocket closures should, of course, be waterproof.

Ease of entry. Some rain suits are one-piece, which is great for maximum rain protection but can be a real pain to get on and off -- especially if you're trying to get it on in a hurry under your motorcycle helmet while it's raining. Another factor is foot entry; look for rain pants with leg openings wide enough to get them on quickly over your boots or shoes. Remember, if you get soaked before you can get your rain suit on, it's not going to do you much good.
Motorcycle Covers:

Protection. There are many good reasons to own a motorcycle cover. Covers not only protect your bike from exposure to rain, sun, dust and bird droppings, but it also can act as a theft deterrent, keep your bike clean longer and keep the seat of your bike cool in hot weather. Motorcycle covers come in lightweight styles, which are great for taking on trips and for protecting your bike on a daily basis, and these motorcycle accessories are perfect when you need to store your bike for an extended time, such as during the winter months.

Features. When choosing a cover, look for features such as heavy-duty grommets for securing the cover around your bike, covered vents to prevent condensation from building, heat-resistant material around the bottom of the cover to prevent hot pipes from causing damage and a soft inner lining to protect your windshield and paint from getting scratched.
Motorcycle Bags:

Storage. One of the drawbacks to riding a motorcycle is that there are not a lot of places to store things. A good solution to that problem is equipping your ride with some motorcycle bags. The most common type of bag is the motorcycle saddle bag. Saddle bags generally hang over the rear fender and have a storage compartment on each side of the rear wheel of the bike. Some of these are soft-side bags and some are hard-side bags. Hard-side bags offer more protection for your things but are heavier, more difficult to put on and may not offer the "look" you want.

Styles. Two other types of bags that are commonly seen on motorcycles are tank bags and tail bags. A tank bag rests on top of a motorcycle's gas tank and is secured with straps or magnetic flaps. Tank bags are great for the smaller items you may want to keep at close hand, such as snacks, sunblock, a water bottle and a cell phone. A tail bag, as you may have guessed, sits on the back luggage rack of a motorcycle. These motorcycle bags can range greatly in size, can be soft-side or hard-side and may be part of a luggage system that includes matching saddle bags. By combining saddle bags and a tail bag, the luggage system has plenty of storage for extended rides of up to several weeks.

Buy Motorcycle Gear
Back to Guides Directory