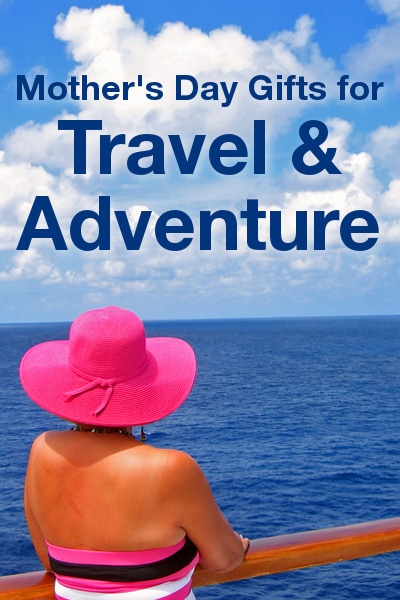 SHOP MOTHER'S DAY GIFTS NOW >>
She loves to see the world, lives for thrills, and can't get enough of the outdoors. The mom in your life, be it your mom, your spouse, or even just a good friend, is an adventure-seeker, and the gift you get her this Mother's Day should reflect that. Whether her idea of a good time is a vacation far from home or a backpacking trip with her family, she'll love these gift ideas.
Gifts for Adventurous Moms:

Get geared up: Help her gear up for her next adventure with the perfect Mother's Day gift. This could mean anything from new luggage to a handy GPS she can carry through city streets or on forest trails. Maybe she needs a new pair of skis for the upcoming ski season, or maybe she could use a sturdy backpack for her next camping trip. Many outdoor hobbies require a lot of gear, and she wouldn't want to go on vacation under-prepared, so find out what she still needs and surprise her with it on Mother's Day.

Read all about it: No matter what her sense of adventure is, she can never be too prepared. Find out what trip she's been dying to take or what hobby she's wanted to try, and find books on the subject. A good travel book will focus on the history and culture of the area and may even point her to some lesser known sights. For the outdoorsy mom, look for hiking guides.

Worth a thousand words: The only thing better than the adventure itself is having the memories forever. This year, help Mom remember her best adventures and get her a new digital camera. One with a telephoto lens will help her capture the experience, or maybe she needs something small and compact she can slip into her pack. For when she gets back, a photo printer and some picture albums or frames will make it easy for her to display her memories in her home.

Through an artist's eye: If her own photography is mostly snapshots, then she may want to decorate with travel art. Landscapes and cityscapes of destinations your mother has visited and loved (or that she dreams of going to) will add color and a sense of adventure to her home.

Get going: Even the most adventurous moms can't always do everything they want to or go everywhere they'd like. Sometimes they just don't have time. Maybe your gift this year can be to just get her going. You can do everything from buying her tickets to contributing to her vacation fund, or you can help her make arrangements for kids, pets, and the house to be looked after while she's gone, so she won't have to worry about it.

Shop Luggage & Bags
Shop Mother's Day Gifts
Find the Perfect Gift in Our Gift Center
See All Guides
Read More Holiday & Giving Guides
Get More Mother's Day Gift Ideas
Published April 12, 2012
Updated March 2, 2015