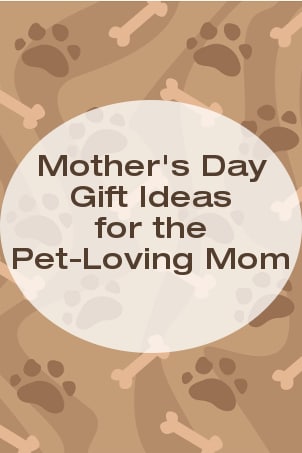 SHOP PET LOVER'S GIFTS NOW >>
Your mom seems to have endless amounts of love to give. She loves her family, she loves her friends, and she loves her pets. Give your pet-lover mom some love in return with pet-themed Mother's Day gifts chosen just for her.
Gifts for Pet-Loving Moms:

Give her pet-themed jewelry: Jewelry has always been one of the most popular Mother's Day gifts, and for good reason; she'll wear it throughout the year. This year, personalize it and choose a cat or dog-themed necklace. You can even find matching pieces for her and her pet, including a matching pendant for her and a charm for Fido or Fluffy's collar.

Find pet-themed home decor: If there is a breed of cat or dog that your mom favors, then finding home decor gifts will be easy. Art prints, garden statues, and throw pillows featuring the critter your mom loves will add happiness to her home.

Take care of her pet: Show your mom you care by taking good care of her pet. This will likely require more than just a day of dog-sitting, though. Pick up her furry friend in the morning and take him for a check-up at the vet and a good grooming session. This is especially good in the spring when pets are starting to shed and spend more time getting in trouble outside. If your mom's cat or dog doesn't already have a microchip, getting one implanted would make the perfect gift.

Contribute to animal shelters or rescue: It's a safe bet that your mom loves all animals, not just her own. Consider donating to an animal shelter or pet rescue in her name. Knowing that she's helping animals in need will likely mean more to her than many things you could buy. If you want to give more than a simple contribution, plan a day of volunteer work at a local animal shelter for you and your mother. That way, you can interact with the animals while you're helping them.

Surprise her with pet portraits: Moms love to have, and show off, pictures of their kids. Chances are she'd love to show off pictures of her four-legged friends, too. If you can get a professional photographer to take pictures, you'll end up with some great shots that you can frame and give to her. If you're taking the pictures yourself, choose a simple background, get down on the pet's level, and make sure he is comfortable with you before you start shooting. Treats will be a big help.

Shop Pet Lover's Gifts
Shop Mother's Day Gifts
Find the Perfect Gift in Our Gift Center
See All Guides
Read More Holiday & Giving Guides
Get More Mother's Day Gift Ideas
Published March 2, 2012
Updated March 4, 2015