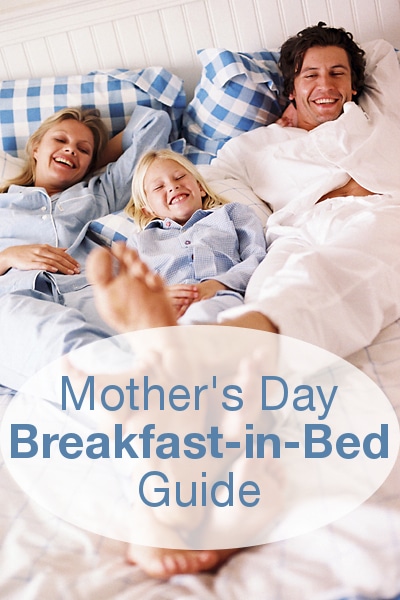 SHOP MOTHER'S DAY GIFTS NOW >>
Serving Mom breakfast in bed is a fun way to give her a special treat on Mother's Day. This year, whether you're maintaining a family tradition or starting a new one, use these tips to make sure the meal goes smoothly. With the right preparation, this will become a custom that Mom will look forward to every spring.
Making Mom Breakfast in Bed:

Plan the menu ahead of time: Even if Mom is usually happy to have a bowl of corn flakes for breakfast, she'll love to have something special on Mother's Day. Research some recipes and make sure you have the ingredients ahead of time. Plan to serve a good mix of savory and sweet. If you have muffins or pastries, plan a dish that features eggs. If you're going to make pancakes, French toast, or fruit-filled crepes, plan to have a side of smoked salmon, sausage, or bacon. Try to think of what her favorite foods are as you plan; she'll appreciate that you remembered.

Don't forget drinks: Plan to serve her a glass of her favorite juice as well as something warm, whether that's coffee, tea, or hot cocoa. A teapot or a French press would make it easy to take the beverage to her bedroom, and then she can refill her cup as much as she wants while she relaxes. If she takes her coffee or tea with cream and sugar, remember to bring those into her room, too.

Make sure you have the right serving tools: A serving tray will make the whole process of taking Mom breakfast in bed much easier. Use nice dishes and silverware; paper plates and plastic utensils wouldn't feel fancy enough for this kind of special day. If you have small containers for the coffee creamer or pancake syrup, make sure to use those.

Let her sleep in a bit: You may be excited to show Mom what you've been planning, but part of the gift is that she doesn't have to get up early. Let her sleep until at least 8 o'clock. On the other hand, if she is used to eating early, you won't want to keep her waiting until 10 or 11 o'clock. If your recipes will take a while, plan to do some of the meal preparation the night before.

Remember the details: Don't crowd the serving tray too much, but be sure to have a few small things that will make the presentation lovely: a cloth napkin, a single flower in a bud vase, or a handwritten note. Even the way you serve the food will make it nicer. For example, you could use a heart-shaped metal cookie cutter to form pancakes. Mom will have no doubt that this is a meal made with love.

Shop Kitchen & Dining
Shop Mother's Day Gifts
Find the Perfect Gift in Our Gift Center
See All Guides
Read More Holiday & Giving Guides
Get More Mother's Day Gift Ideas
Published April 29, 2010
Updated February 17, 2015