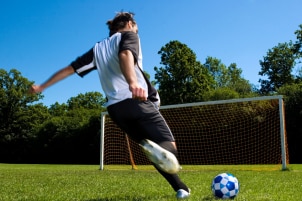 You spend a lot of time running when you're playing soccer. That means you sweat a lot. Luckily, soccer clothing is made to wick away moisture from the body and keep you cool while you run. Aside from getting a soccer ball and soccer shin guards, there are a few pieces of soccer apparel you'll want to pick up before you play soccer competitively.
Essential Soccer Apparel:

Soccer jerseys: Most soccer jerseys and soccer shorts are made from some kind of polyester. Polyester soccer jerseys are lightweight and cool. You'll want a short-sleeve soccer jersey for summer practices and a long-sleeve soccer jersey for cooler days. Soccer shirts should be loose enough to let you move freely but not so loose that they get hung up on other players when you're fighting for the ball. For practice, pick up a few cheap soccer jerseys.

Soccer shorts: Soccer shorts should allow you to move your legs as far forward and back as possible. Because soccer shorts are designed to allow full leg motion, they don't have to be short shorts; however, if they are too long, they may interfere with your movement. Soccer shorts should fall somewhere between mid-thigh and the top of the knee.

Soccer socks: Soccer socks should be long enough to cover your shin guards. Most soccer socks are made of synthetic fibers or a blend of cotton and synthetics. They need to be fairly elastic in order to stay up, and they should be fairly thick in order to provide some cushioning for your feet.

Soccer shoes: If you are playing outdoor soccer, you'll want soccer cleats. For indoor or turf soccer, you'll want flat indoor or turf soccer shoes. Leather soccer shoes are the best, but they are also more expensive than synthetic leather cleats. Soccer cleats with full-grain leather uppers are the most comfortable and durable, and the best leather for soccer shoes is generally kangaroo leather. Whatever type of leather you get, the softer it is, the better control you'll have. Softer leathers won't be quite as durable, however, and leather soccer cleats in general won't hold up very well if you wear them several times in the rain or snow. Synthetic soccer shoes are great for beginners and casual soccer players because they are so affordable. With that said, synthetic soccer shoes aren't necessarily cheap soccer cleats. They will last a long time, too, though a nice leather shoe will last a little bit longer. Synthetic shoes are usually easier to clean than leather, and they dry faster than would a leather shoe. If you live and play in a place that receives a lot of rain, synthetic soccer cleats are the shoe to choose.

Buy Soccer Apparel
Back to Guides Directory