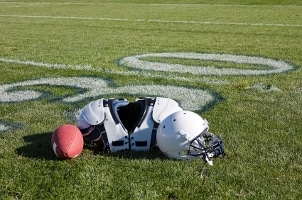 Minus protective gear, football can be a quick ticket to an injury. Thanks to the variety of protective football equipment, American football has become one of the most popular games in the world. But before you hit the gridiron, make sure you are fully geared up with football pads. Here are some of the things you won't want to play without.
Protective Football Gear:

Football helmets: If there is one portion of your body you will really want to protect in a football game, it is your head. Football helmets will allow you to play without worry of impact on your head. Whether you are an adult or are looking for youth football helmets, size usually goes along with hat size.

Shoulder pads: It is hard to imagine a serious football player stepping on the field without football shoulder pads. Shoulder pads are some of the most important pads to strap on because they protect the rest of your body from a common point of impact.

Collar and neck pads: These expand football protection by preventing whiplash or supplying an added shield to collarbones. Football neck pads can be a simple tube of foam, called neck rolls, or they can be a new, more extensive pad system called the "cowboy" collar, which covers the neck and collarbone. Available in adult and youth sizes, look for these football pads to grow in popularity.

Rib vests: Fitted by chest size, rib protectors extend below shoulder pads for those who want extra armor. Some players even protect sore ribs during practices, when they aren't wearing other football pads, to speed healing and prevent additional bruises. A very light rib vest of moisture-wicking fabric helps keep players cool, though it does not add significant football protection. High-density foam football pads offer a good combination of protection and flexibility, while hard-shell football pads sacrifice some comfort for added protection.

Lower body and leg pads: Like most things, you can save money with football pad sets. Three-piece sets have two hip pads and one tail pad; seven-piece sets have two hip pads, one tail pad, two thigh pads and two knee pads. Alternately, you can buy individual football pads and get what you need for your specific needs. Hip and tailbone pads are a great idea for every player, but they are essentials for those who get hit a lot: quarterbacks, running backs and wide receivers. The hip and tailbone pads extend outside the pants, so you will also need a "girdle" to hold them in place. Usually sold as three-pad sets, many are sold in colors complementing team colors. Pants are designed to accept thigh pads and knee pads because every player can benefit from the protection of pads. These come in two varieties: Foam pads fit better because they are soft enough to mold to the individual knees, but vinyl-dipped pads are thicker, offering better protection with a little less flexibility.

Arm protection: Football pads for the arms range from thin, elastic sleeves to full pads. Some extend from wrist to elbow; others are designed to cover the elbow. Football gloves are fast becoming an essential in many players' minds. "Tact gloves" are lightweight and flexible but have rubber on the palms to increase grip for receivers. Linemen need more padding on the gloves, in case their hands end up in the face mask or under the cleats of another player.

Buy Football Equipment
Back to Guides Directory