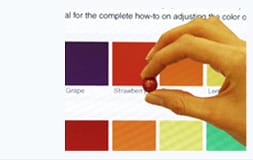 Worried about your monitor's color settings? We can help.
We want to make sure the color of the product you see on your screen is the same color you get when you receive your order.
To find out if your monitor is displaying colors correctly, follow these four simple steps.
Step 1: Find Skittles®, M&M's® or Crayons.
Step 2: To make it easy, pick your favorite color and hold it up to your screen to the matching color squares below.
Step 3: Do the colors match? If the color looks too bright or dull you may need to adjust the colors on your monitor.
Step 4: If you need to calibrate your monitor, please refer to your owner's manual.
Strawberry
Orange
Lemon
Lime
Grape
Red
Orange
Yellow
Green
Blue
Red
Orange
Yellow
Green
Blue
Skittles® and M&M's® are registered trademarks of Mars, Incorporated ("Mars"). Crayola is a registered trademark of Binney & Smith Properties, Inc. ("Crayola"). Neither Mars nor Crayola are affiliated with or sponsors of Overstock.com, Inc. or its products and services.