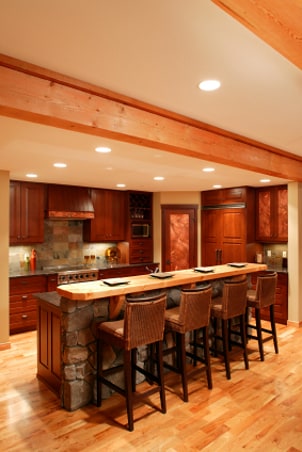 How functional is your kitchen? In addition to being inviting and stylish, a kitchen should feature the modern details that make your life easier. Modern kitchen details and appliances fit well in homes of all styles and can also add character to your kitchen space. Before starting any major kitchen home improvement project, consider this modern kitchen checklist to start building a wish list and a renovation plan.
Modern Kitchen Essentials:

A tile backsplash: A backsplash is the first thing that many people will see when they enter your kitchen. Impressive backsplashes are almost always complimented on generously. In addition to being stylish, a tile backsplash is durable and easy to clean. Tile is especially useful when you're looking for decorating ideas. A sleek, black glass tile goes well with stainless steel appliances and modern cabinets. Alternatively, clean white subway tile can provide a bright accent to classic cabinets and wood floors. Colorful tiles will brighten any modern kitchen. Choose backsplash tile that will match or complement your floor tile.

A high-capacity kitchen sink: Washing dishes in a large sink is so much easier than trying to fit oversized pots and pans in a small sink full of soapy water. A large sink can be the focal point of your modern kitchen, so choose a style that stands out while blending well with other kitchen decor. If your home is full of rustic charm, choose an old-style farm kitchen sink made of porcelain or copper.

A pull-out kitchen faucet: Pull-out faucets look great, and they make many kitchen tasks much easier. A sleek kitchen faucet is like modern jewelry for your kitchen. Look for a durable, functional and attractive pull-out kitchen faucet in brushed nickel, chrome or oiled bronze.

Modern appliances: Modern kitchen appliances can make your kitchen seem like the setting of your favorite cooking show. A high-capacity, energy-efficient refrigerator makes storing food easy and can help save money on your electric bill. A matching stove, range and dishwasher will complete your kitchen and make cooking fun and easy. Consider extras like warming trays, convection cooking, conduction cooktops and built-in grills to bring the future to your kitchen.

Shop Home Improvement
Back to Guides Directory