Mobile Video Buying Guide
by Staff Writer
Today's car electronics provide audio and video options to make long road trips a lot more fun for everybody. Mobile video systems bring you the best of home entertainment on the road. Let this mobile video buying guide help you discover how to buy a mobile video system that will be a sight for sore eyes.
Buying a Mobile Video System: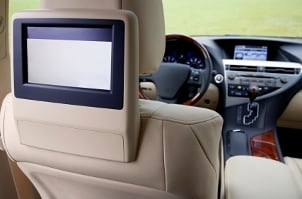 Shop Mobile Video ▸
DVD players and Blu-ray players

Car DVD players and Blu-ray players can be mounted in-dash, overhead or under seats. Portable DVD players may be sold as just players or as player-monitor combo units. Before deciding on a car DVD or Blu-ray player, think about where the screen will be and how you'll be getting power to the player. A headrest screen with the Blu-ray player underneath the seat might be easier to install than a ceiling-mounted unit.

Multimedia mobile video systems

Some car electronics are full multimedia centers; they include a radio tuner, CD player, TV tuner, iPod or MP3 player and a Blu-ray player all in one. Many mobile video systems have a remote control or are Bluetooth compatible, allowing you to connect your cell phone for hands-free calls through your car stereo speakers.

Display options

Screen sizes for your mobile video display range from very small (2.5-inch screens) to desktop monitor size (20-inch screens). Monitors can be mounted overhead or in the dash, visor or headrest, or they can sit between the front seats. LCD displays offer the most variety in size, producing less heat and using less electricity than plasma or CRT screens. Most new monitor displays use the 16:9 widescreen aspect ratio, although some retain the standard 4:3 ratio. Check the room you have available in your vehicle before deciding on a screen size.

Speakers

Your existing car audio system will probably accept a mobile DVD player. Of course, if you really want home theater-quality sound for your car DVD player, you may want to take a close look at upgrading your car audio. Adding a subwoofer, some wide-range speakers and an amplifier could really turn your car into a theater on wheels.

Headphones

Headphones are a great option for use with mobile video. Wireless headphones are a great way for backseat passengers to enjoy a video without disturbing the driver or other passengers. Check your player to be sure that it is compatible with the headphones you want to use.

Contrast ratio

The contrast ratio describes difference between the brightest and dimmest colors the screen can show; the higher the ratio, the better the image. A high contrast ratio for your mobile video screens will help them be more watchable during the daytime, when light from the windows can affect visibility.
Tips from Overstock.com
Add a video game console to your mobile video system and watch boredom fly out the window. While a movie might last an hour or two, video games can keep passengers occupied with interactive for much longer.
Including an audio-video switch in your mobile video system will help you switch back and forth between video from your Blu-ray player, video game console and audio sources. Check out our great deals on car audio and video cables and switches for your system.