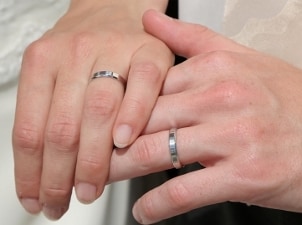 A wedding band is an important part of a man's wardrobe, and while many men's wedding bands are simple, there are style variations that make wedding bands different. Even if you are looking to buy a wedding ring that is classic and traditional, knowing a bit about the shapes and styles can help you choose a wedding band that will be both comfortable and stylish. This men's wedding band glossary will be a great resource when you are shopping for men's wedding rings.
Men's Wedding Band Terms:

Comfort fit: A comfort-fit band has a contoured inner surface, which means less of the wedding ring surface touches the skin. The design slides easily on the finger and is more comfortable than a flat band; it is a good men's wedding ring option for men who are not used to wearing a ring. Comfort-fit bands run approximately one-half size larger than traditional rings. For a better fit, the next smaller ring size is suggested.

Half round: One of the more traditional wedding bands, the half-round ring has a curved exterior. The half-round ring is a classic style that is very fashionable and understated.

Pipe: A pipe band has flat surfaces with straight edges. The ring resembles the cross section of a cut, round pipe. This is a popular design for many wide wedding bands.

Finish: The finish is the final treatment to the exterior surfaces of metal jewelry. A shiny polished finish, known for its light-reflecting appearance, is the most common jewelry finish.

Matte: Matte is a non-reflective finish that doesn't shine but can have a subtle shimmer that many find especially attractive on grey metals. The matte finish is formed by chemical abrasion, tumble polishing or by hand-rubbing an abrasive on the surface. Scratches stand out on a matte surface.

Brushed: Consisting of a matte finish with a slight texture of fine lines on the surface, the brushed texture is sometimes called a satin finish.

Millegrain: This is a texture of small metal beads that often accentuates the lines of a piece of jewelry. Sometimes, the tiny beads hold small gemstones in place. On a wedding band, the millegrain beading usually decorates the edges.

Buy Men's Wedding Bands
Back to Guides Directory