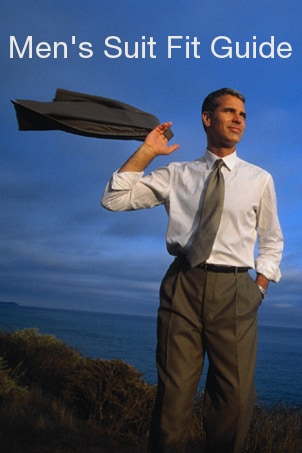 Nothing looks as sharp as a man in a suit. Few things, however, look as awkward as an ill-fitting one. No matter how nice the suit is, it absolutely has to fit right. Fit is about more than just size, however. Did you know that suits can actually have significantly different cuts and structures? This guide will help you determine not only what style of suit to buy, but also how to make sure it fits perfect.
Find Your Fit:

From slim to stocky, short to tall, there's a suit fit for every man. Not sure where to start? Measuring is the easiest way to get an idea of what size and fit you need. You can either measure yourself at home or have a tailor measure you for the best fit. Along with measuring yourself for a men's suit, you'll want to consider your overall body type. Here are the most common suit styles to help you find the right fit for your type.
Slim: Contrary to the name, most average-size men should actually be wearing a slim-fit suit. With a modern cut, narrow shoulders, and a 7-inch drop*, these suits are not too roomy, not too tight.

Extra-slim: Built much like the slim fit, extra-slim suits have the addition of high arm holes, narrower sleeves, and slimmer trouser legs. This fit is perfect for tall, slender guys.

Classic: This traditional fit offers more room in the shoulders and back as well as full trouser legs and typically have a 6-inch drop*. This fit is ideal for larger and athletic men who need a little more room.

Short: Short suits fit similar to the classic suit, but with shorter jackets. Designed for men 5'7 and shorter, they also have a lower button stance to create a longer, slimmer look.

Long: Cut to fit men 5'11 to 6'2, long suits are slightly longer in the sleeves and jacket. The button stance is slightly higher to balance the longer jacket length.

Big: For men 6'2 or shorter with a waist measurement the same or larger than the chest. Big suits have a full waist and average height and are larger in the neck.

Tall: Designed to fit men 6'2 or taller with a waist measurement less than the chest. Tall suits are two inches longer in length than a regular suit and 1 inch longer in the sleeves.

*Drop is the difference between the size of the jacket and the size of the pants. For example, a suit size 38R would typically have size 32 pants.
Select a Size:

Even the best suits need altering, so you can't expect it to be perfect right off the rack. Buying the right size from the get-go, however, will make it fit that much better once alterations are done.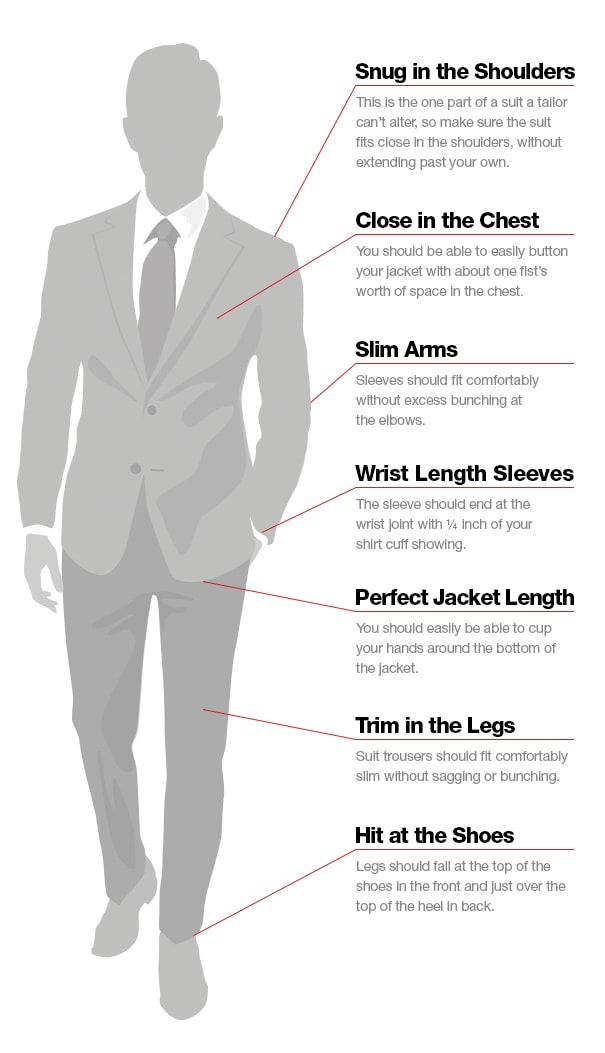 What Do You Want to Do Next?

Shop Men's Suits
Shop Men's Suit Separates
Shop All Men's Suits & Suit Separates
See All Guides
Read More Clothing & Shoe Guides
Learn More about Men's Clothing