Men's Shoes Buying Guide
by Stephanie Petersen
Published April 28, 2010 | Updated December 9, 2014
You may be a guy who likes shopping for men's shoes, or you may dread the day you have to replace a worn-out pair. Either way, you may be able to use some tips on buying men's shoes that are right for you, especially when you're shopping online. Buying shoes doesn't need to be complicated. Just think about what you do, what clothing you wear and what shoes would be right for those places and those clothes. This men's shoes buying guide will help you find the shoes you need.
Men's Dress Shoes: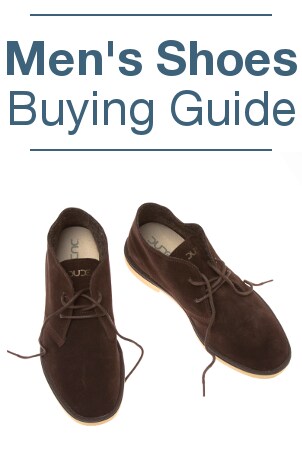 Shop Men's Athletic Shoes ▸
Oxfords:

You need shoes with laces when you're wearing a nice suit or a tuxedo, and oxfords (including wingtips or brogues) fill that need. There's one important rule to remember: The more dressed up you are, the thinner your soles should be, the blacker the shoes should be, and the shinier the leather should be. Save brown oxfords or men's leather shoes with lug soles for your less formal clothes.

Loafers:

Dress pants, business suits, sport coats, and sweaters all work well with loafers and similar men's casual shoes. If you dress in these clothes for work, you'll want to have a pair of brown loafers and a pair of men's black shoes.

Boots:

Dress boots, like ankle boots or Chelsea boots, work well with suits when the weather is cold and wet. If you're going to wear your boots all day, they should follow the dress shoe rule: Look for thinner soles and shinier men's leather shoes to look professional.
Men's Casual Shoes:
Slip-ons:

The shoes you can slide into quickly are the shoes you'll love when you're in a hurry or when you just don't need to make too much effort. That's not to say you'll look sloppy when you're wearing slip-ons. Men's slip-on shoes can be sporty canvas shoes, comfortable clogs, or nice leather shoes.

Athletic-inspired:

Hanging out in your favorite jeans or running errands in your cargo shorts: The shoes that are relaxed without looking careless are athletic-inspired shoes. They're not your gym shoes, so athletic-inspired shoes can be more about fashion than function.

Athletic:

You'll need the right shoes for the sports you like, so choose athletic shoes carefully. If you plan to exercise lightly by walking each morning or stretching, a pair of men's walking shoes will work well. Be sure to find men's running shoes that have plenty of support for your ankles and heels before running long distances.

Sandals:

Sandals are the footwear of summer, and you'll want to have a few pairs of men's sandals in your closet for those hot days. Flip-flops are great to have around, but if you live in a warm climate and wear sandals often, you'll want to be sure you have some nicer men's sandals as well.

Boots:

The boots you wear on casual days include a variety of styles, each with a specific purpose: rain boots, snow boots, work boots, western boots, and hiking boots. Stock up on the boots that are right for your climate and your activities.
Get the Right Size Men's Shoes
Measure your feet late in the day.

Your feet tend to be larger at this time, so you can get a precise measurement this way. You should also wear the socks you plan to wear frequently with your shoes.

Find your measurement.

Have a friend trace your foot on a piece of paper and measure the tracing, finding the length of your foot in inches closest to the next 16th inch. Find the width of your foot, and then measure your other foot; use the measurements from the largest foot. Use our shoe sizing chart to find your U.S. men's shoe size.