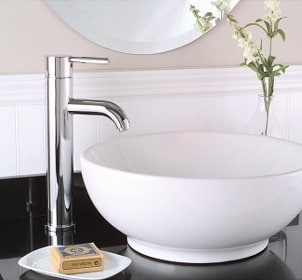 Part of the challenge of remodeling is blending fixtures and hardware, such as a bathroom sink, with other elements of your room decor. Unique bath fixtures, such as vessel sinks, can introduce special challenges. A vessel sink is not meant to blend into the countertop as other bathroom sinks do. It's often a focal point for the room. Below are some tips on incorporating a bathroom vessel sink into your bath decor.
Selecting a Vessel Sink:

Decide how you want the sink installed. You'll have several options for installing a vessel sink into a new or existing vanity countertop. A top-mounted or partially recessed vessel sink will show off the vessel materials, while an undermount bathroom vessel sink will give a more understated appearance.

Look at the countertop. Ask yourself how the countertop and vessel sink contrast. If the sink is the same color, it may get lost in the counter without standing out. Most likely, you will need to install a new vanity countertop that has a custom-cut hole to fit your vessel sink, drain and faucet.

Choose materials that won't clash. Vessel sinks may be made from glass, beaten metal, porcelain and even stone. Try to choose a sink material that blends with the other materials and fixtures in the room. For instance, a copper or porcelain sink will probably match an antique vanity and country-style bath better than a modern looking glass sink.

Consider light and reflecting properties. Glass and metal vessel sinks will capture and reflect light differently than stone or wood. Colored glass can be especially effective at capturing the light when water flows through it.

Match the vessel faucet to other bath hardware. The faucet that comes with your vessel sink may not match your other bath hardware. Check the hardware colors first and then select the correct color options when selecting your vessel sink.

Use an appropriate caulk. Whichever sink type you choose, use a caulk that matches. Otherwise, you may have an unsightly border around the base of your vessel sink that matches neither the sink nor the countertop.

Buy Vessel Sinks
Back to Guides Directory