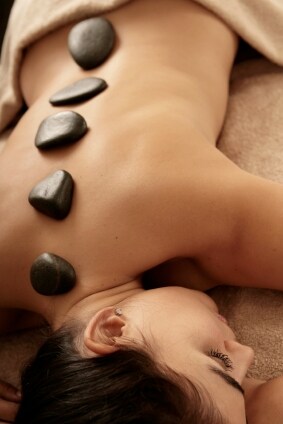 Having an arsenal of all the right massage supplies turns every pair of hands into the hands of healing. The best massages make the world better for you and you better for the world. Massage practices are thousands of years old, as varied and universal as language and still undergoing continual refinement. With the range of massage supplies now available for you to choose from, it can be daunting to find and buy the items that will unlock the best kind of rejuvenation that massage holds. This massage supplies buying guide serves as a straightforward primer to help you in the right direction and choose the right massage products for you.
Buying Massage Supplies:

Massage tables: If you plan to go into massage as a professional or give regular massages at home, a massage table is an absolute necessity. To be of professional quality, portable massage tables should be comfortable all the way around, which means heavy padding, easy-to-clean surfaces, padded facial support and secure leg foundations. You should know the weight limit for your massage table and never operate it outside of its parameters. Your massage table's height should also be adjustable. If you're performing massages regularly on a massage table that's too high or too low, you will soon be the one needing the massage.

Massage chairs: Massage chairs have gained popularity in recent years for a number of reasons. Most massage chairs are easier to transport than tables and cost less, and clients can also receive massages without having to disrobe. Because of this, professional massage therapists are able to give massages in public settings, like shopping malls, student union buildings and corporate offices to create better exposure for their business. Also, most traditional techniques, including Swedish massage, Shiatsu, sports massage, deep tissue and myofascial massage can be adapted to work with these massage supplies.

Powered massage chairs and cushions: Offering an easy way to experience the benefits of massage in your own home, powered massage chairs and cushions are programmable to your specifications and are designed to be effective on autopilot. Massage chairs or cushions with a heat setting are ideal for massaging an area of your body that has undergone trauma, as the heat expands blood vessels, which in turn allows more oxygen to reach the affected area. Powered massage cushions can be adapted to practically any space, including the home, office and even long car trips.

Hand-held massagers: Whether manual or electric, hand-held massagers can be lifesavers for those with an acute injury or chronic pain. They are especially useful for highly localized areas, including your calves, back, neck and scalp. While many hand-held massagers are designed with the idea that the patient should not have to strain to reach an affected area, hand-held massagers can also be useful massage supplies for a massage therapist. They provide a break for the hands and fingers and are an easy way to increase the longevity of the massage.

Massage oils: Oils improve the massage experience by removing friction and moisturizing and conditioning the skin. Frequently, oils are scented, lending the benefits of aromatherapy to massage while more deeply relaxing the recipient.

Massage accessories: Take a massage from basic to exotic with the use of hot or cold stones, the tactile sensation of a cleansing mud rub, abrading pumice stone or mineral-rich body butter. Having plenty of extra massage supplies on hand keeps you prepared for administering a number of massage techniques.

Buy Massage Tools
Back to Guides Directory