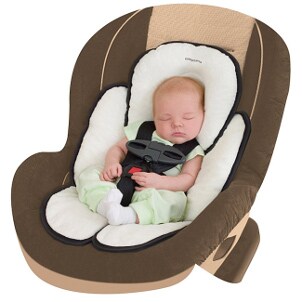 Every newborn needs an infant car seat. They're designed to keep your baby safe in the car, but you also want to make sure your infant is comfortable. While you never want to adjust your baby car seat from its recommended position, or your baby's position within the car seat, there are many things you can do to give your little one a more comfortable ride. These tips can help you keep your baby comfortable, warm, and happy while in the car.
Making Car Seats Comfortable:

Car seat covers: The fabric of an infant car seat can irritate your baby's skin. Placing a car seat cover over a baby car seat provides your baby with a softer, less irritating surface. You can find infant car seat covers in a variety of styles and fabrics. Try a lightweight cotton for warmer months and a plush fabric to keep your baby warm in the winter months. Most car seat covers can easily be removed and machine washed, making it easier to keep the car seat clean.

Newborn cradlers: Keep your baby snug in her rear-facing car seat with a newborn cradler. Designed to attach to your car seat, cradlers are an easy way to make an infant car seat more comfortable for your little one. They provide extra support and an even better fit for smaller newborns and premature infants. Cradlers vary in size and design, from soft bumpers to warm cozies that hug your baby's shape, to make car seats more snug and soft.

Strap covers: Car seat straps can become irritating and uncomfortable for your baby, especially on longer drives. Car seat strap covers can be slipped over the straps and positioned to increase comfort. Try placing strap covers on the straps over your baby's shoulders and stomach if she seems fussy and restless in her rear-facing car seat; uncomfortable straps could be the culprit.

Sun shades: You wear sunglasses; why not give your baby a bit of protection from the sun as well? Certain baby gear, like a sunshade, protects your baby's eyes from the sun and keeps the sunshine from making your baby feel too hot while in her car seat. There are various types of sunshades, including window shades and canopies that attach to infant car seats to shade your baby inside.

Blankets and bunting bags: Newborn babies need to be kept warm, especially those born in the colder months. Making an infant car seat more comfortable also means making it warm. On top of snuggly car seat covers, infant cradlers, and other baby gear, you may want to cover your baby with a soft baby blanket while in her car seat. A bunting bag that attaches to your car seat can keep her warm and snuggly as well and is easy to install and remove.
What Do You Want to Do Next?

Shop Infant Car Seats
Shop Car Seat Accessories
Shop All Car Seats
See All Guides
Read More Baby Guides
Learn More about Child Safety