Luxury Watch Buying Guide
by Staff Writer
Almost any wristwatch will give you accurate time, but a few timepieces distinguish themselves as luxury watches -- admired for the quality of their craftsmanship and the beauty of their design. Luxury watches have an artistic quality that outlasts fashion trends and are often kept for a lifetime. Sometimes, wristwatches from luxury watch brands are passed on to the next generation. Perhaps the time has come for you to add a luxurious timepiece to your collection of watches. You may have some questions you want answered before you buy a men's luxury watch or women's luxury watch. This luxury wristwatch buying guide offers the information you need to help you sort through the options and make an informed buying decision.
Buying a Luxury Watch: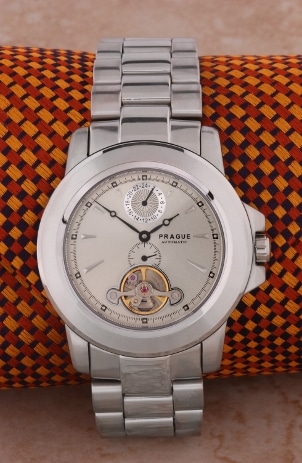 Shop Luxury Watches ▸
Your choices:

There are many men's luxury watches and women's luxury watches available from a range of luxury watch brands. Luxury wristwatches include elegant yellow gold watches with sleek designs that show off the lustrous metal, diamond wristwatches decorated with a multitude of precious gems and well-made stainless steel timepieces with intricate complications that only a few skilled craftsmen in the world can make. Luxury wristwatches often incorporate leather, gemstone dials, unique artistic designs and famous brands.

Making the selection:

When you begin shopping for a luxury watch, ask yourself what function you would like the watch to serve. Do you want a high-end chronograph watch to enhance your professional image? Is this timepiece to be a jewelry watch that is worn on special occasions? Will the wristwatch be a gift of opulence to mark a special event? Consider band style, materials, case style, decorations, movement type and brand when comparing luxury watches.

Price range:

The price range for luxury watches is actually quite large and varied. You may want to pay several hundred dollars for your luxury watch or invest in a timepiece that costs several thousand dollars. Decide on a price range before you start shopping and then investigate the options in that range; this will help you decide which combination of features, luxuriousness and brand name your new timepiece must have.

Watch materials:

Like all luxury goods, luxury watches are crafted of the finest materials available. For many people, a luxury watch is a gold watch, with a bracelet and case made of 18-karat yellow gold. White gold is an elegant choice, especially among women's luxury watches, and rose gold is becoming more common in men's high-style timepieces. Platinum, though rare, is another high-end material for watches and has a silvery white luster. Luxury watches, especially those designed with multiple functions, are also available as well-made stainless steel timepieces. Straps are, in general, more casual than bracelets, but they are popular and can be quite exquisite in their design. On high-end watches, look for hand-stitched straps.

Watch embellishments:

If you want some glamour, choose a luxurious watch decorated with diamonds or colorful gemstones. The sumptuousness of jewelry watches adds sparkle to suits and dressy clothes; a slender gold watch with diamonds can replace a woman's bracelet. Make sure the glittery stones on a watch you are considering are real gems. Many watches are decorated with crystals and beads that are pretty, but these timepieces do not have the quality and value of a true diamond watch.

Watch functions:

The art of crafting timekeepers is called horology, and for watch enthusiasts, it is the interior mechanics of a watch that distinguishes it from others and determines its value. People who appreciate the skill of watchmaking generally want manual-wind or automatic mechanical movements in their timepieces. In fact, the most elite of luxury watches usually have a mechanical movement, which showcases the talent of a mature watchmaker better than a quartz movement. On the other hand, a quartz movement is more precise than a mechanical one, and you can find beautiful luxury watches that feature quartz movements. Fine watches often have intricate complications that have been developed throughout the long history of watchmaking. A complication is any function other than basic timekeeping, such as the stopwatch on a chronograph. Complications demonstrate the skill and prestige of watch companies, and the presence of handmade complications can significantly increase the price of a watch.

A fine watch is an appropriate and thoughtful gift for celebrating life's important milestones, such as graduations, weddings, significant birthdays and new jobs. Choose a timepiece that complements the gift recipient's personal fashion; a diamond watch suits the jewelry lover while a slender white gold watch is perfect for those with more classic tastes. Check with friends and family to see if the recipient has a favorite watch brand or style.